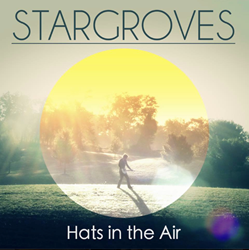 "Perez Hilton likes them, and I feel like that guy likes no one"Bro Tip, The Young Turks
(PRWEB) December 04, 2014
The website for emerging indie pop band Stargroves at http://www.stargroves.com has collected another honor - this time, the site won second place in the "Best Website" competition run by respected online news show The Young Turks.
Young Turks host Cenk Uygur explained that the Stargroves website is both aesthetically pleasing and perfect from a functional standpoint, with easy-to-find sections covering the band's biography, tour dates, photos, videos, music clips, and merchandise. Co-host Bro Tip joked, "Perez Hilton likes them, and I feel like that guy likes no one," referencing the PerezHilton.com post praising Stargroves' single "Westfjords," a duet with Oscar-nominated actress Abigail Breslin.
The Stargroves site features a hologram-style homepage header depicting band members with birds and clouds drifting past in a late afternoon sunset. The band posted the news about its award on its Facebook page with the message, "We're so pumped that our website won second place overall in The Young Turks 'Fix Your Face With Squarespace' competition!"
Featuring interviews and commentary on politics, culture, and current events, The Young Turks is said to have an audience of over 50 million views monthly. Over the past several weeks, the Young Turks gave out a number of website awards, including Most Innovative, Most Artistic, and Most Beautiful. Stargroves previously took first place in the Most Beautiful Website category, with Uygur noting, "They had a kick-ass site. It was beautiful. It was really well done."
Fronted by singer-songwriter Teddy Watson, Stargroves has received critical acclaim from outlets like mtv.com for their self-titled debut album, which is rich with ambitious compositions and catchy melodies. Highlights include "Within Me a Lunatic Sings," an exuberant track with infectious keyboard loops; "Hafnarfjörður," which incorporates both folk elements and dreamy soundscapes; and "A Good Child Sings a Good Song," which starts off as a delicate ballad but transforms into a joyous, captivating tune.
A growing number of fans have discovered that the members of Stargroves are talented musicians who create entertaining songs that stretch the traditional rules of pop music. Follow the band on its social media channels to be the first to know when Stargroves releases new music!
> Facebook