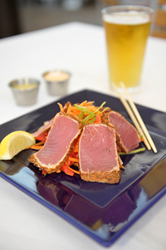 Santa Barbara, CA (PRWEB) November 20, 2014
'Tis the season to visit Santa Barbara. Hit the road and enjoy a fabulous range of activities that appeal to travelers of every type. Captivating festive holiday activities, such as the Parade of Lights and Downtown Holiday Parade, are guaranteed to make everyone get into the holiday spirit. Additionally, the Santa Barbara International Film Festival, along with other cultural exhibits offered this winter, allows oneself to become immersed in the local arts and culture scene. Finally, food lovers rejoice as they will not leave hungry or disappointed after experiencing the wonders of the annual Film Feast. This list below is a collection of the top 15 recommended activities while visiting Santa Barbara this winter.

Every year, restaurants and hotels team up for Film Feast to provide film festival visitors the culinary experience of a lifetime. For twelve days straight (January 27-February 7), taste buds are delighted with specialty food and the best pours one will ever try. Enjoy Santa Barbara's local flavors, try innovative plates and get exclusive lodging packages. SBFilmFeast.com
The newly opened Barbareño restaurant has been making waves with its unique style of cooking. This California-style bistro captures Santa Barbara's essence by creating dishes unique to the region. Barbareño's young chefs seek to celebrate the Central Coast through their cuisine and utilize local sources like the "pinquito beans," which are exclusively grown along California's Central Coast. Barbareno.com
The Santa Barbara International Film Festival, one of the biggest and most anticipated events of the year, celebrates its 30thAnniversary January 27 – February 7, 2015. Hosting more than 85,000 attendees, film industry professionals and special guests, SBIFF promotes film as an art form through various events and showcases over 200 independent films in Santa Barbara's historic theaters. SBIFF.org
Lotusland, a hidden gem in the mountains of Montecito, comes back strong from winter break on February 18th to build their new exhibition "FLOCK: Birds on the Brink." Thirty international artists promise to intrigue and shock visitors as they transform the gardens of Lotusland into a provocative exhibit that portrays the global loss of wild bird populations. Enjoy this exciting exhibit February 28 to May 23. Lotusland.org
Located in the heart of downtown Santa Barbara, the new Wine Collection of El Paseo showcases six premium tasting rooms that offer a variety of locally-crafted distinctive wines. Those that appreciate a good wine experience and want to learn about Santa Barbara County's wine production should make the Wine Collection of El Paseo their next destination. Facebook.com/WineCollectionofElPaseo
Experience a magical night watching the coastline of Santa Barbara become lit up by a boat parade adorned with thousands of lights and festive Christmas decorations. The annual Parade of Lights is on Sunday, December 14th where onlookers will enjoy holiday festivities like the tree lighting ceremony and a fireworks show not to be missed. SantaBarbaraCA.gov/ParadeOfLights
Santa Barbara welcomes the holiday season with its annual Downtown Holiday Parade on Friday, December 5th. Laughter and joy will reign State St. as favorite holiday floats, marching bands, local personalities and performance groups meet over 50,000 spectators. Alan Thicke is the Grand Marshall of this year's parade, themed "Winter Nights and Holiday Lights." Downtownsb.org
Things are getting wild at Santa Barbara Zoo as they welcome the second giant anteater born in 2014! The recently born male pups are the first born at the Zoo since 2006, making this a unique and special event. The Santa Barbara Zoo is home to 146 different species of animals and insects, stop by and meet their newest member! Who by the way, is also available for naming by making a donation. SBZoo.org
From February – May 2015, the Santa Barbara Museum of Art is the only West Coast venue to feature the world-renowned exhibit "Botticelli, Titian and Beyond: Masterpieces of Italian Painting from Glasgow Museums." The one-of-a-kind exhibit, from Gasglow Museums' Italian holdings, showcases the evolution of Italian Art with works from Renaissance and Baroque masters. SBMuseumofArt.org
Take part in an incredible spectacle and get up close with the thousands of beautiful Monarch Butterflies that migrate to Santa Barbara every year. Visit the Goleta Monarch Butterfly Grove from mid-November to mid-February and enjoy an amazing sight watching these orange-and-black insects flutter around the eucalyptus trees right above one's head! GoletaButterflyGrove.com
The 1920's and 1930's come roaring back this December 5th as Santa Barbara gets ready to celebrate Repeal Day! Join us in remembering the end of prohibition and enjoy an evening of classic costumes and cocktails in eight of the finest bars in downtown Santa Barbara. Revelers in vintage costumes get special offers at all participating bars. RepealDaySB.com
Feeling adventurous this holiday season? Invite friends and family to the perfect holiday getaway at Cachuma Lake! Take a nature walk and explore the scenic Oak Woodland trail, come aboard an Eagle Cruise on a journey to discover the seasonal and local wildlife or test one's luck and spend a relaxing day fishing on the lake until the winter sunset colors the sky. SBParks.org
After a voluntary effort to "go green," the beautiful Ramada Santa Barbara hotel is now the first to receive the prestigious "Green Business Certification" in the Santa Barbara and Goleta area. Stay at the award-winning hotel, Ramada Santa Barbara to enjoy their year-round solar heated swimming pool and find out what else they are doing to stay green! SBRamada.com
Ever tried a Madeleine with a "bump"? Santa Barbara's new bakery Mademoiselle Madeleine, established by two French national visionaries, brings this delicious delicacy with their signature "bump" to The American Riviera®. Try their high-quality pastries in seven different flavors, now available in many local specialty stores. This authentic handmade treat will melt in your mouth! Mlle-madeleine.com
The Ensemble Theatre Company (ETC), one of Santa Barbara's cultural hubs within the Historic Theater District, presents five exciting theatrical productions during their 2014-2015 season. The inspiring stories of Amadeus, The Best Brothers, Intimate Apparel, Woyzeck and Venus in Fur will amuse you through music, theater and dance. Join the cast for a post-performance party on opening nights! EnsembleTheatre.com
ABOUT SANTA BARBARA
Featured on the cover of Travel + Leisure in May 2013 and voted Best Getaway by L.A. Times Readers' Choice Awards in 2012, Santa Barbara is located just 92 miles north of Los Angeles and 332 miles south of San Francisco, on the Pacific coastline. Visitors can arrive via scenic Highway 101, train, bus or by flying into Santa Barbara Municipal Airport or Los Angeles International Airport. For travel and accommodation information and to request a free copy of the official Santa Barbara County Visitors Magazine, contact Visit Santa Barbara at 800.676.1266, 805.966.9222, tourism@santabarbaraca.com or SantaBarbaraCA.com. Visitor information is also available at the Visitor Center, 1 Garden Street (at Cabrillo Boulevard).
MEDIA INFORMATION
Stay informed about Santa Barbara news with our Media Center, press releases and blog, TheSBPost.com. Just getting to know Santa Barbara? The Media Field Guide is a great place to start. Planning a research visit? Use the Press Trip Request form to get the process started. Follow us on Facebook and Twitter for daily updates, and visit our Mobile Site for on-the-go information about dining, wine, accommodations, events, attractions and more.