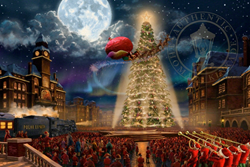 Christmas was one of Thomas Kinkade's favorite times of year and we at the Thomas Kinkade Company strive to keep his tradition of inspirational holiday-themed art alive. - John Hasting
Morgan Hill, CA (PRWEB) December 04, 2014
The Thomas Kinkade Company announces the release of the limited edition art print entitled "The Polar Express." In an exciting partnership with Warner Bros. Consumer Products, the Thomas Kinkade Company has illustrated the popular holiday movie in a classically Kinkade defining style.
In commemoration of the 10th anniversary of the popular Christmas movie "The Polar Express," Thomas Kinkade Studios captures a pivotal scene that tells the classic holiday story. The painting depicts the climactic scene where Santa's sleigh, almost impossibly overfilled with presents, ascends through the crowd of elves. The composition of the image details a North Pole town with a radiant Northern Lights show and a stunning Christmas tree that is decorated with the tidings of the season. While the train pulls into the town square, the children gather for their magical train ride on The Polar Express – sure to be home for the highly anticipated Christmas morning. Meanwhile, Santa's elves frolic around in celebration of this momentous event.
John Hasting, Chief Executive Officer of the Thomas Kinkade Company remarks, "Christmas was one of Thomas Kinkade's favorite times of year and we at the Thomas Kinkade Company strive to keep his tradition of inspirational holiday-themed art alive. We're proud to add "The Polar Express" Limited Edition art to our holiday tradition." Hasting goes on to cite that the central theme of the painting is succinctly defined by the famous quote "Seeing is believing, but sometimes the most real things in the world are the things we can't see."
This image is available in three sizes in limited release through authorized Thomas Kinkade Galleries in time for the 2014 holiday season.
The Thomas Kinkade Company has published the works of Thomas Kinkade and Thomas Kinkade Studios for over 25 years, during which Thom has become one of the most widely recognized and best selling artists in the world. His artwork is distributed through a network of authorized dealers and strategic relationships. The Thomas Kinkade Company and Thomas Kinkade Studios strive to carry on Thom's legacy, passion and his desire to bring joy into people's lives. For additional information on The Thomas Kinkade Company visit http://www.thomaskinkade.com.
About Warner Bros. Consumer Products
Warner Bros. Consumer Products, a Warner Bros. Entertainment Company, is one of the leading licensing and retail merchandising organizations in the world.
THE POLAR EXPRESS and all related characters and elements are trademarks of and © Warner Bros. Entertainment Inc.
(s14)