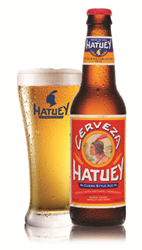 This is a very exciting time for the brand. Its rich Cuban heritage is one I'm sure, New York will deeply appreciate and enjoy," said Anler Morejon, HATUEY Brand Manager.
CORAL GABLES, FLA. (PRWEB) November 21, 2014
As part of its centennial celebration, HATUEY® beer is now making its distinguished, Cuban style craft brew available in New York. To commemorate the launch, a VIP reception is being held at a restaurant in Times Square on Monday, Dec. 1st from 7pm to 10pm. The New York City market is the first stop to the brand's eventual east coast expansion. Until now, it was sold exclusively in South Florida. In order to expand the brand in the northeast, HATUEY® has proudly joined with a leader in the distribution industry, OAK BEVERAGES, INC.
The event will feature a live band playing Cuban music and a cigar roller, as a tribute to HATUEY beer's culture and heritage, as well as its new brand ambassador, Camille Arroyo, the mirror image of the iconic Cuban beauty depicted in the painting, "Beer Me" by Abdul Delgado. A round of the famous ale mentioned in many of Ernest Hemingway's novels, will also be offered to the restaurant's patrons that evening compliments of the 100-year-old brand.
"This is a very exciting time for the brand. Its rich Cuban heritage is one I'm sure, New York will deeply appreciate and enjoy," said Anler Morejon, HATUEY Brand Manager. "In spirit with the holidays and in keeping with the HATUEY tradition of always giving back to its community, a toy drive will be held so attendees are asked to bring a new, unwrapped toy for children ages 3-13. They will then be donated to the Hispanic Counseling Center, a multi-service non-profit that pro-vides bilingual treatment services for chemical dependency and mental illness, as well as many youth and family programs, serving over 1,400 clients per month."
For more information or to attend the event as media, please contact Maria Prieto, PR Director at Empress & Company, at Maria(at)empressco(dot)com or 516-319-9576 or visit http://www.Hatuey.com.
About HATUEY® beer
Originally brewed in the Cervecería HATUEY in Santiago de Cuba in 1927, HATUEY was Cu-ba's first premium beer. Joaquin Bacardi, a Harvard graduate with a degree in Chemical Engi-neering, was sent to Copenhagen in the early 1930s to learn the art and science of brewing, and became HATUEY beer's first Brew Master. Named after the Indian chief, Hatuey, - the leader of the Taino tribe of Indians who lived in the early 16th century, from the island of Hispaniola- HATUEY originally sold 12 million cases. Expanding to meet the ever increasing demand for HATUEY, the Cervecería Modelo in Havana opened in 1947 and had such success that the expansion continued with a state-of-the-art brewery, Cervecería Central, that went on line in 1953. By the late 1950's, HATUEY was the number one premium beer in Cuba and dominated the Cuban beer market. Today, the craft, Cuban-style premium ale is brewed in small batches at a family-owned brewery in the United States following the traditional craft beer brewing technique, inspired by the authentic Cuban taste. For additional information, visit http://www.hatuey.com.
The HATUEY® brand is part of the portfolio of Bacardi Limited, headquartered in Hamilton, Bermuda. Bacardi Limited refers to the Bacardi group of companies, including Bacardi Interna-tional Limited.
About BACARDI U.S.A., Inc.
Bacardi U.S.A. Inc., is the United States import and distribution arm of one of the world's leading spirits and wine producers. The company boasts a portfolio of some of the most recognized and top-selling spirits brands in the United States including BACARDÍ® rum, the world's favorite and best-selling premium rum, as well as the world's most awarded rum; GREY GOOSE® vodka, the world-leader in super-premium vodka; DEWAR'S® Blended Scotch Whisky, the number-one selling blended Scotch whisky in the United States; BOMBAY SAPPHIRE® gin, the top-valued and fastest-growing premium gin in the world; CAZADORES® 100 percent blue agave tequila, the number-one premium tequila in Mexico and a top-selling premium tequila in the United States; MARTINI® vermouth, the world-leader in vermouth; and other leading and emerging brands. For additional information, visit http://www.bacardiusa.com.
MEDIA CONTACT:
Empress & Co., for HATUEY Beer
Maria Prieto
305.999.7789
516-319-9576
Maria(at)empressco(dot)com
# # #
ENJOY HATUEY® RESPONSIBLY.
©2014 HATUEY AND THE INDIAN HEAD DEVICE ARE REGISTERED TRADEMARKS OF BACARDI U.S.A., INC. BACARDI U.S.A., CORAL GABLES, FL.