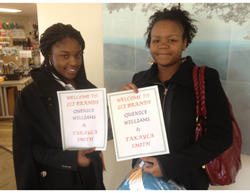 'LCI Brands employees are doing something truly wonderful for their community and we are very grateful for their sponsorship,' said Marci Koblenz, President of Center for Companies That Care.
(PRWEB) December 08, 2014
The employees at LCI Brands™ are happy to celebrate the completion of the first of four years as proud supporters of the AIM High program by Center for Companies That Care. The organization seeks to educate and inspire employers to practice employee engagement, create work environments that enable individuals to thrive, and develop partnerships to strengthen future generations of people.
For over a year, staff members have mentored low-income students in Chicago at risk of not graduating from high school by building one-on-one relationships with them. "The goal is to help them stay encouraged and focused in high school so that they attend and graduate from a four-year college," said Debra Reed, Customer Service Manager.
According to Marci Koblenz, President of Center for Companies That Care, "Of those students who enter 9th grade at a Chicago public school, only 45% complete it. The college completion picture is even more bleak, with only 6% finishing college by age 25."
Through activities such as attending plays, visiting museums, and participating in job fairs, volunteers aim to expose these youth to the arts as well as support and encourage them in their own academic and career interests. Once a year, the students also job shadow at the LCI Brands offices. "The goal is to introduce them to things that they might not have the opportunity to experience," Reed said.
To participate in AIM High or to support other Center for Companies That Care programs, please visit their website.
About LCI Brands
LCI Brands, formerly known as L.C. Industries, Inc., began with the manufacturing of luggage caddies in 1971. Since then, it has expanded to offer over 500 products in categories such as security, comfort, convenience, and health. LCI Brands owns several internal brands, including Lewis N. Clark® and Belle Hop®. For more information, visit http://www.lcibrands.com.
About Center for Companies That Care
Center for Companies That Care is a 501(c)(3) nonprofit. It channels the power of Chicagoland businesses to address tenacious social issues facing the community today to improve the lives of individuals, families and communities and ensure social sustainability. Programs focus on education, workforce development, and literacy.