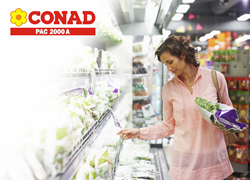 "PAC2000A is one of the market leaders in all the regions where it operates. We are pleased to have gained their trust, having become the suppliers of choice as regards innovative point-of-sale products," said DR.Romano Volta,Chairman/CEO Datalogic Group
Bologna (PRWEB) November 20, 2014
Datalogic a global leader in Automatic Data Capture and Industrial Automation markets, and world-class producer of bar code readers, mobile computers, sensors, vision systems and laser marking equipment; it has recently signed a partnership agreement with the PAC 2000A Group, a retail cooperative affiliated to the Conad Group (Consorzio Nazionale Dettaglianti).
The agreement between the two companies stipulates that PAC 2000A members shall be entitled to buy Datalogic devices through a single channel for delivery at predefined conditions.
PAC 2000A has grown rapidly over the past few years, achieving a consolidated production value of about 2.5 billion euro, which make it the most important retail group in the regions of central and southern Italy (Umbria, Lazio, Campania and Calabria), as well as the largest cooperative in the Conad world. In order to cover its about 1,000 points of sale and over 3,000 checkouts it has become necessary to streamline the Group's Supply Chain by reducing costs for its affiliates.
The agreement with Datalogic has made it possible to achieve this goal with a high-quality service delivering cutting-edge products at a competitive price.
The range of solutions offered by Datalogic to PAC2000A includes the Magellan 9800i, Magellan 8400, Magellan 3200Vsi Magellan 3300 Hsi, Magellan 1100i and QuickScan 2400 2D bar code scanners, all of fitted with a state-of-the-art imaging technology.
As for future prospects, further technological solutions may be added to the agreement, for example the Jade X7 portal scanner, the new totally automated Datalogic checkout system which speeds up both product scanning and payment from customers, thus reducing management costs and increasing production value.
"PAC 2000A is one of the market leaders in all the regions where it operates; it is a steadily growing and dynamic business, always striving to provide the best service to clients and cooperative members. We are pleased to have gained their trust, having become the suppliers of choice as regards innovative point-of-sale products." – said DR. Romano Volta, Chairman and CEO of Datalogic Group – "Datalogic is able to provide operators in the large-scale retail industry with a wide product range, a result of over 40 years' research and development experience. This agreement not only paves the way for our business relationship with PAC 2000A, it is also based on shared corporate strategic targets."
Bearing witness to the profitable partnership between the two companies is the recent opening of the new point of sale at Quasar Village, the shopping mall in Corciano, near Perugia, which was inaugurated on the 25th of September this year. All checkouts at the Conad hypermarket there are fitted with Datalogic's Magellan 9800i desk scanners; the latter, apart from providing a state-of-the-art imaging area which is perfectly able to read 1D and 2D codes regardless of their direction, also make it possible to customize the acoustic signal confirming that the product has been read.

Datalogic Group is a global leader in Automatic Data Capture and Industrial Automation markets. As a world-class producer of bar code readers, mobile computers, sensors, vision systems and laser marking systems, Datalogic offers innovative solutions for a full range of applications in the retail, transportation & logistics, manufacturing and healthcare industries. With products used in over a third of world's supermarkets and points of sale, airports, shipping and postal services, Datalogic is in a unique position to deliver solutions that can make life easier and more efficient for people. Datalogic S.p.A., listed on the STAR segment of the Italian Stock Exchange since 2001 as DAL.MI, is headquartered in Lippo di Calderara di Reno (Bologna). Datalogic Group as of today employs about 2,400 members of staff worldwide distributed in 30 countries. In 2013 Datalogic Group achieved revenues for 450,7 million Euro and invested over 35 million Euro in Research and Development with a portfolio of over 1,000 patents across the world. For more news and information on Datalogic, please visit http://www.datalogic.com.
Datalogic and the Datalogic logo are registered trademarks of Datalogic S.p.A. in many countries, including the U.S.A. and the E.U.
PAC 2000A Group
With a consolidated production value of approximately 2,5 billion euro, 956 members and about 13,500 employees including staff and network operators, the PAC 2000A Group operates through subsidiaries as well as using its own trademarks, in all retail channels: Discount (Todis), Traditional (Margherita), Neighbourhood (Conad City), Supermarket (Conad), Superstore (Conad Superstore), Hypermarket (E.Leclerc-Conad).