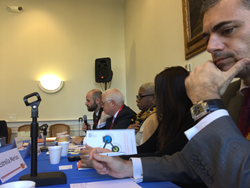 "Even in a time of crisis, we see the value of supporting the less fortunate in nearby communities," said Andrade. "We also see long term in the sense that by helping others, the benefits will come back to us."
Washington, DC (PRWEB) November 20, 2014
The deputy mayor from the City Council of Malaga today energized a meeting on city-to-city cooperation held during the annual United Nations Conference on south-south cooperation in Washington, DC: Julio Andrade underlined the more than 20 years of experience his city has had in working through bilateral and triangular relations with cities throughout Africa and the middle east, especially in the area of using information and communications technology to strengthen the capacity of cities to respond to citizen needs and priorities, thus reducing poverty and improving livelihoods.
Since its inception in 2008, the Global United Nations Development Expo has featured documented best practices from hundreds of partner countries, UN agencies, private-sector enterprises and civil-society organizations. To effectively build on this broad global partnership, the eight thematic areas of this year's GSSD Expo 2014 at the Organization for American States (OAS) address Sustainable Development with a particular focus on Poverty Eradication, Food Security and Public Private Partnerships. Malaga was singled out both as a member of the Executive Steering Committee of the World Alliance of Cities Against Poverty, and also for its longstanding experience with Information and Communication Technologies (ICTs)
"ICTs are not a magic formula but they can improve the lives of everyone in this planet," said Andrade. "We have tools that can propel us toward the Millennium Development Goals; instruments with which to advance the cause of freedom and democracy; vehicles with which to propagate knowledge and mutual understanding."
Andrade said the mayor of Malaga, Francisco de la Torre, has always advocated for using 0.7 % of the local budget to promote development assistant, and to date has funded 729 projects in 60 different countries with an amount of more than 20 million euros.
"Even in a time of crisis, we see the value of supporting the less fortunate in nearby communities," said Andrade. "We also see long term in the sense that by helping others, the benefits will come back to us."
He said the Malaga City council, as a founder member of the Global Digital Solidarity Fund, "celebrated in our city in 2008 the First Summit of Mediterranean Towns and Local Authorities in collaboration with the UN Development Programme," he said. "We believed we could create areas of synergy among cities and companies willing to collaborate in the development of projects that contribute to solutions that bridge the digital gap between the connected and the unconnected."
Andrade was in Washington with other members of the WACAP Executive Steering Committee, with Sister Cities International, the Urban Institute, the UN Office for South South Cooperation and the International Labour Organization to explore the current framework for city-to-city decentralized cooperation, looking at some best practice examples within the United Nations system and beyond. The group also explored an expanded demand-driven niche for the World Alliance of Cities against Poverty (WACAP) to support collaboration among the cities of the South.
Media Contacts: Adam Rogers, Coordinator, WACAP: adam.rogers(at)undp(dot)org, mobile +1 202-830-7257;
or Mithre J. Sandrasagra, UNOSSC New York: mithre.sandrasagra(at)undp(dot)org, mobile +1 646 391 7834