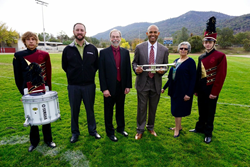 "When these students received their new instruments, you could just tell that their cheers, smiles and joyful tears resonated with Mariano just as much as winning the World Series," said Garth Gilman, Yamaha.
TOLLHOUSE, Calif. (PRWEB) November 20, 2014
Legendary pitcher Mariano Rivera stepped up to the plate today by donating much-needed instruments and new uniforms through his foundation to a Tollhouse, California public high school band program that had been using dilapidated musical instruments that in some cases are 40 years old.
Rivera, a certain future Hall of Famer who played a key role in helping the Yankees capture five World Championships during his career, pitched in to help the Sierra High School Band after hearing about the condition of their equipment, as well as learning of the dedication over the years of the band's director, Bruce Weinberger, who despite having virtually no budget to run the band, has made a positive impact on countless young students.
The Mariano Rivera Foundation, a charitable organization the now-retired Major Leaguer established with his wife in 1998, provided new Yamaha drums, trombones, clarinets, trumpets, saxophones and other instruments as well as new uniforms to the band at the school on Nov. 19.
The former New York Yankees relief pitcher was on hand to personally make the presentation, and to attend a special performance by the band using their new instruments this morning at the Tollhouse school.
"Mariano's excellence in pitching is well known by cheering crowds, yet when these students received their new instruments, you could just tell that their cheers, smiles and joyful tears resonated with Mariano just as much as winning the World Series," said Garth Gilman, general manager, Band & Orchestral division of Yamaha Corporation of America, which partnered with the Mariano Rivera Foundation in planning the presentation.
"When the Mariano Rivera Foundation reached out to Yamaha about making this a reality, we jumped at the chance not only to help these student musicians and the band, but also to honor Bruce Weinberger for all he's done for so many young people over the years on barely a shoestring budget," said Gilman. "The foundation's motto is 'Working Today To Build A Better Tomorrow,' and everyone involved in this agrees that through his incredible work with the Sierra High School band, Bruce Weinberger certainly exemplifies that motto."
Naomi Gandia, the president of the charitable foundation Rivera started to help those in need with a special emphasis on youth programs, heard about the band's plight, as well as the incredible dedication of the band's director, from a young relative who attended Sierra High School and performed with the band. That young man told her how music, performing in the school band and in particular Weinberger made such a positive difference in his life.
Touched by the story, especially the part about how the band's director year after year rallied students to get involved in music despite a virtually non-existent budget for the program, Gandia personally relayed the details to Rivera, who agreed that the foundation should step in to help.
Rivera, Gandia, Yamaha's winds product manager Jonathan Goldman, Weinberger, the school's principal Julia Reese, faculty, staff and the student population of just under 600 were treated to a concert on Nov. 20 at the school, marking the first time the band played their new instruments in public.
The Yamaha instruments purchased through Kline Music, a retailer in Sacramento, are 8 flutes; 18 clarinets; 2 bass clarinets; 10 alto saxophones; 5 tenor saxophones; 2 baritone saxophones; 10 trumpets; 11 trombones; 6 euphoniums; 4 sousaphones; 5 marching snare drums; 3 marching bass drums; 1 set of quad tenor drums; and marching bells.
Sierra High School is located at 33326 Lodge Road in Tollhouse, California.
-END-
About the Mariano Rivera Foundation
Founded in July 1998 by Mariano Rivera and his wife Clara, the mission of the Mariano Rivera Foundation is to share with the community a portion of the blessings that God bestowed on the Riveras and their family. The childhood challenges faced by Rivera, a five-time World Champion with the New York Yankees, and his future wife as they were growing up poor in Panama serve as the inspiration for them to focus on the needs of children in similar situations. These needs include education, health and wellness and social and economic development in various communities. The foundation exemplifies its mission statement of "Working Today To Build A Better Tomorrow" by providing scholarships to qualified youth, and sponsoring youth centers and churches that implement educational programs which benefit underprivileged families in their communities, among other empowerment and charitable endeavors.
About Yamaha
Yamaha Corporation of America (YCA) is one of the largest subsidiaries of Yamaha Corporation, Japan and offers a full line of award-winning musical instruments, sound reinforcement and home entertainment products to the U.S. market. Products include: Yamaha acoustic, digital and hybrid pianos, portable keyboards, guitars, acoustic and electronic drums, band and orchestral instruments, marching percussion products, synthesizers, professional digital and analog audio equipment, Steinberg recording products and Nexo commercial audio products, as well as AV receivers, amplifiers, Blu-ray/CD players, iPod docking systems, earphones, headphones, home-theater-in-a-box systems, sound bars and its exclusive line of Digital Sound Projectors. YCA markets innovative, finely crafted technology and entertainment products and musical instruments targeted to the hobbyist, education, worship, professional music, installation and consumer markets.