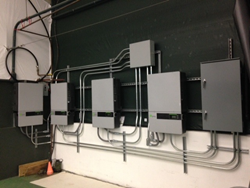 Simsbury, CT (PRWEB) November 21, 2014
Ruark Properties, LLC, located in the Simsmore Square complex at 530 Hopmeadow St., (Route 10) joins several other commercial property owners in Simsbury who are achieving energy independence through renewable, solar energy. Ross Solar Group, a Danbury, CT based solar installation firm, installed the massive solar array on the south-east facing rooftop of the Simsmore Tennis facility.
Since commissioning in September 2014, the solar array has produced nearly 20,000 kilowatt-hours. The system, made up of 528 solar panels, are estimated to produce over 140,000 kilowatt-hours per year. "Ross Solar Group was honored to partner with Simmsmore Tennis with the installation of their commercial-grade solar electric system. The Ruark family has created a legacy with the solar array for their family and community for years to come," said Josh Ross, Co-founder of Ross Solar Group.
Formerly known as Simsbury Tennis House, Simsmore Tennis has become a hub for local tennis fans, hosting more than two dozen USTA teams on its exclusive indoor courts. Among tennis players in the Farmington Valley, Simsmore Tennis is already renowned for its bright lighting, 'cushioned' hardcourts, air-conditioning and expansive lounge. As one might imagine, between the state-of-the-art lighting and HVAC systems, the facility uses a lot of energy and the power load is high.
In addition to housing Simsmore Tennis, the building complex, which was renovated in 2011, houses clothing retailer Anything Preppy, an actuarial consulting firm and a reinsurance brokerage company. Kenneth R Finn DMD has a dental office on the first floor, creating a unique energy draw with the several pieces of sensitive electrical equipment. "In the summer, we still have indoor play, and we have to keep our building cool. It made sense to recapture the sunshine bearing down on our roof; it's the ultimate win-win." Says Mike Doyle, Director of Technology for Ruark Consulting.
Not only has the solar array provided energy sufficient for peak usage but, also surplus power to feed back into the grid, turning Ruark's meter backward and earning the owner revenue.
About Ross Solar Group
The Ross Solar Group provides custom designed turnkey solar solutions to both commercial and residential customers throughout the Northeast. Ross Solar received the prestigious SunPower Intelegant Award in 2012 for their contribution to a 345-kilowatt installation at North Shore Community College in Danvers, Mass., and was also named SunPower National Top Producer in 2013, and Regional Commercial Dealer of the Year in 2011. Ross Solar has installed over 15,000,000 watts of solar in the Northeast, including installations for Walmart, Bed Bath & Beyond, Jetro and Pfizer. For more information, visit http://www.rosssolargroup.com