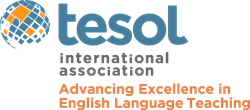 This certificate allows practitioners to take their careers to the next level and become contributing professionals in the field
Alexandria, VA (PRWEB) November 21, 2014
TESOL International Association, the leading professional association for English language teaching worldwide, has announced new professional development programs for the 2015 year. The line-up includes both online programs and face-to-face events.
In September 2014, TESOL launched the pilot version of a new certificate program. The TESOL Certificate: Advanced Practitioner Program is specifically designed for experienced English language educators who want to build their expertise.
"This certificate is for the experienced teacher who wants to dig deeper into research and the field," explains Sarah Sahr, TESOL's director of education programs. "This certificate allows practitioners to take their careers to the next level and become contributing professionals in the field."
Those who take this self-paced program will develop a deeper understanding of syllabi and lesson plan design, learn how to apply current research to improve their classroom teaching strategies, and discover ways to contribute to the TESOL body of knowledge by presenting and publishing. The pilot phase will end in December, and full enrollment is scheduled to begin in January 2015.
TESOL will also be unveiling three six-week online courses in 2015: "Fundamentals of TESOL," "Teaching and Assessing Adult Learners," and "Teaching and Assessing Young Learners." In previous years, these courses were available only to people admitted to a short-term certificate program. Beginning in 2015, however, these courses will be available individually to anyone who wants to gain practical knowledge of language training, teaching methodology, and classroom practice.
A brand-new face-to-face event, Adult Ed Day, will launch at the 2015 TESOL International Convention & English Language Expo on 24 March 2015 in Toronto, Ontario, Canada.
Adult Ed Day joins TESOL's preconvention education line-up as the counterpart to K–12 Dream Day. This one-day interactive program for teachers and instructors of adult education programs will feature 20 workshops on a variety of topics such as innovative teaching practices, administration and programming, funding, language standards and assessment, and ways to remove barriers to language teaching and learning.
Dr. Jim Cummins, professor emeritus with the department of curriculum, teaching, and learning at OISE, University of Toronto, will deliver the keynote address, followed by a panel discussion on Canada's rapidly changing immigration policies and what that means for the TESOL field.
Information on these and other programs is available on TESOL's Attend & Learn webpage.
About TESOL International Association
Founded in 1966, TESOL International Association is a professional community of educators, researchers, administrators, and students committed to advancing excellence in English language teaching for speakers of other languages worldwide. With more than 13,000 members representing over 150 countries, TESOL fosters the exchange of ideas, research, and peer-to-peer knowledge, and provides expertise, resources, and a powerful voice on issues affecting the profession. Through professional development programs, its international conference, special interest groups, and publications, TESOL engages tens of thousands of professionals to collaborate globally and create a world of opportunity for millions of people of all ages who want to learn English. For more information, please visit http://www.tesol.org