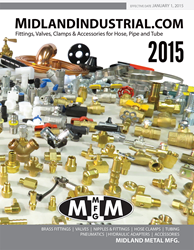 Midland releases an expanded catalog for the 15th consecutive year.
Kansas City, Missouri (PRWEB) November 21, 2014
For the fifteenth consecutive year, the Midland Metal Mfg. catalog showcases an expanded line of fittings, valves, clamps, and accessories for hose, tube, and pipe.
This year, the catalog includes new items in hydraulics to accommodate higher pressure applications. Additions include the LSQ-VEP series of flat face thread locked couplings for construction equipment, hydraulic tools, and vehicles, in sizes of 1/2 inch to 1 and 1/2 inch; and KZE series thread locked hydraulic jack couplings for construction equipment and portable hydraulic jacks, in sizes of 1/4 to 3/8 inch.
Midland has also expanded their line of stainless steel items to include flanges through 12 inches, additional fitting sizes and configurations, and clamps 620SS and 350SS. They now also sell a greater variety of pressure gauges. The catalog also includes better prices on flat-face ISO 16028, A, and B quick couplings, as well as wing nut thread to connect couplings. These new items will be fully stocked by the beginning of the year.
Midland sells through distributors in the hose and fitting, hydraulic and pneumatic, fastener, truck and automotive, tubing, and tube fitting, spraying equipment, marine-related, farm and agriculture, and pipe valve and fitting industries. Any interested party can request a free catalog. Midland also provides a PDF version of their catalog, as well as an iPad app.
Midland Metal Mfg. supplies brass fittings, ball valves, steel nipples, malleable iron fittings, red brass, bronze, stainless steel and forged steel fittings and nipples, as well as flanges, hydraulic and pneumatic fittings and accessories, pressure gauges, hose clamps, and much more. Based in Kansas City, Missouri, they also have stocking locations in California, Georgia, and Texas. Led by President Vince Hodes since 2000, Midland has been family owned and operated since 1980.
For more information, please use the contact form on the Midland website, call 888-821-5725, or email sales(at)midlandindustrial(dot)com. Connect with Midland through social media on Facebook, Twitter, and LinkedIn]