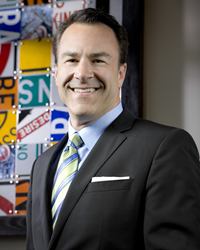 I know I'm doing good work when I win for my clients. I'm proud of my team and the hard work we do for every client every time.
Southfield, MI (PRWEB) November 21, 2014
Earlier this autumn, Attorney Jason Waechter – known as The Motorcycle Lawyer – found out that he has once again been named to Michigan Super Lawyers list. Upon learning that he made this prestigious list once again, Waechter said, "I work for my clients… I fight for them. I know I'm doing good work when I win for my clients, but it's nice to get affirmation from my peers as well." Of course, Waechter is referring to the rigorous selection process used to determine which Michigan attorneys are named to Michigan Super Lawyers list each year. Waechter has been on the list every year since 2011.
Then, earlier this month, Waechter also learned that his firm was named one of the "Best Law Firms" according to U.S. News & World Report and Best Lawyers®. "It's a great moment for any business owner when you see your company name on a 'best of' list," says Waechter. "I'm proud of my team and the hard work we do for every client, every time."
The nomination process for both Michigan Super Lawyers® and Best Law Firms is confidential, but it's safe to assume they took into consideration Waechter's trial record, and the fact that he has won millions of dollars for his clients over the last 20 years. His firm works on a no-win, no-fee contingency basis, and part of the fees collected on each case are put back into the biker community, through motorcycle awareness campaigns and free resources available on Waechter's website. "Our goal is to provide the best value of service possible for every client and even every potential client," says Waechter. "We want people to be informed about the laws and their rights."
Waechter and his team have also thoroughly researched and vetted attorneys across the country in order to build one of the best referral networks in personal injury law. "We can't be everywhere," says Waechter, "but we can ensure that regardless of which city or state a victim was injured in, all they have to do is contact us to get some of the best representation for their case."
####
Jason Waechter has spent two decades cementing his reputation for results. Over the years, he has won millions for auto accident victims and contributed significantly to safety education and accident prevention. He has entrenched himself as one of the nation's premier lawyers. If you or a loved one has been injured in an accident, call 1-800-708-5433 to speak with a lawyer who can help.