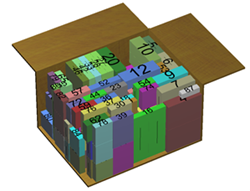 Using box optimization technology has demonstrated up to 15 percent improvement in box utilization, 40 percent cost avoidance, 20-30 percent improvement in pick/pack labor efficiencies
Atlanta, GA (PRWEB) November 21, 2014
In response to FedEx and UPS decisions to apply dimensional weight pricing to all shipments, effective January 2015, ORTEC is offering box optimization technology to help businesses mitigate significantly higher costs to ship goods. It is expected that shipping costs will increase 20 to 30 percent and the new pricing structure will affect over 70 percent of all shipments.
Dimensional weight pricing is an industry practice that sets the shipping price based on package volume which equates to the amount of space a package occupies in relation to its actual weight. This pricing method takes into account the exterior package size, which is the amount of space a package occupies when in the cargo area of the transport vehicle, in relation to its actual weight to determine the appropriate price. The dimensional weight calculation will apply if it is greater than the actual weight.
Right Product. Right Box. Right Price.
"Obtaining the ability to identify the right products, for the right box, at the right price is the best way to avoid the dimensional weight price increase starting January 1, 2015," stated ORTEC Global CG Strategist Bobby Miller. "Using box optimization technology has demonstrated up to 15 percent improvement in box utilization, 40 percent cost avoidance, 20-30 percent improvement in pick/pack labor efficiencies and a reduction in carbon footprint by using less corrugate."
About ORTEC
ORTEC is a leading provider of advanced analytics and predictive commerce solutions. Our team specializes in helping companies meet Big Data analytics challenges in the areas of fleet routing and dispatch, vehicle and pallet loading, workforce scheduling, demand driven transportation forecasting, dynamic network planning and warehouse control. ORTEC offers both Windows and SAP® certified and embedded solutions in the cloud. ORTEC solutions are also integrated with & complimented by its strong relationships with industry partners in ERP, Mobile/Telematics & S&OP. In addition to having the honor of being named as winner of the 2012 Franz Edelman Award for Operations Research Excellence with TNT Express, ORTEC has recently won awards from Computerworld, Supply Chain Brain, Consumer Goods Technology and GBC Health. ORTEC has over 2,000 customers and 700 employees, worldwide.