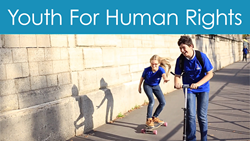 Every child has the right to survive and thrive, to be educated, to be free from violence and abuse, to participate and to be heard.
(PRWEB) November 20, 2014
Who do kids listen to? Do they listen to their parents or teachers? Kids listen to kids.
Youth for Human Rights International(YHRI) has helped create a movement of children helping children understand and defend their rights and the rights of others.
And it's fun, as this video of young YHRI members in Paris shows.
The initiative is based on the UN Universal Declaration of Human Rights, the world's premier human rights document.
In his Universal Children's Day message, UN Secretary-General Ban Ki-moon said:
"The one thing all children have in common is their human rights. Every child has the right to survive and thrive, to be educated, to be free from violence and abuse, to participate and to be heard.
"These are innate human rights, as inalienable as those held by adults. But until 1989, these rights were not formally articulated in a legally binding instrument, nor were Governments fully accountable to advance these rights for every child."
Universal Children's Day, November 20, commemorates the UN General Assembly's adoption in 1959 of the Declaration of the Rights of the Child and the 1989 adoption of the Convention on the Rights of the Child. But, 25 years after the Convention, many children are denied their rights, as the Secretary-General went on to say:
"We cannot say that the rights of all children are fulfilled when, despite our progress, some 6.6 million children under 5 years of age died in 2012, mostly from preventable causes; when 168 million children aged 5 to 17 were engaged in child labor in 2012; when 11 percent of girls are married before they turn 15."
While violation of children's rights is a complex and formidable issue, educating an entire generation on these rights can go a long way to creating the broad agreement necessary to make these right a reality.
For more than 40 years, Churches of Scientology and their members, through their own activities and partnerships with human rights organizations and government bodies, have worked to raise popular awareness and implementation of the Universal Declaration of Human Rights.
The Church of Scientology supports United for Human Rights (UHR) and its program for young people, Youth for Human Rights. United for Human Rights has provided educational materials in 17 languages to more than 150 nations. Some 21,000 schools have used its human rights materials.
To make United for Human Rights and other humanitarian initiatives and social betterment programs more broadly available, the Church of Scientology has published a new brochure, Voice for Humanity—Real Help, Real Results.
Inspired by the words of L. Ron Hubbard, Founder of the Scientology religion, that "a being is only as valuable as he can serve others," Scientologists wholeheartedly support these programs. Participation and collaboration in these initiatives is invited and welcomed from all who seek to improve conditions for themselves and others.
For more information, visit the Scientology website at http://www.Scientology.org/how-we-help/voice-for-humanity.