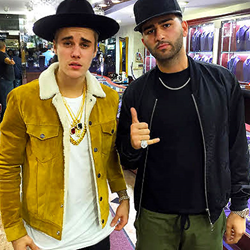 "He loved it!" mentioned Elliot who immediately became acquainted after his short trip to the west coast.
New York, NY (PRWEB) November 21, 2014
The team at Avianne & Co. have established themselves as innovators in refined handcrafted celebrity jewelry. During his recent trip to New York City, award-winning singer-songwriter, Justin Bieber paid the Avianne & Co team a visit at their flagship store in the heart of New York's city famed Diamond District.
A couple weeks earlier, Justin reached out to Elliot of Avianne & Co and invited him out to Los Angeles. The world-renown musician was presented with an extensive selection of diamond gemstone pendants, rings and ornately designed chains from Avianne & Co's notorious Royal Collection. The 'Royal Collection', was initially designed by Joseph Aranbayev also known as Joe Avianne, CEO at Avianne & Co. in collaboration with Birdman, co-founder of Cash Money Records.
Among the pieces purchased are a luxurious 14K Yellow Gold Large Ruby pendant, a 14K large Onyx pendant and a micro Ruby pendant all detailed with brilliant round cut diamonds. The pieces was sold at an undisclosed amount.
"He loved it!" mentioned Elliot who immediately became acquainted after his short trip to the west coast.
After flying to New York on Wednesday, November 12th, Justin stopped by the showroom to meet up with Elliot and the Avianne team. Despite the chilly weather outside, the team gave him a warm Avianne welcome. Elliot introduced him to the array of collections designed by the master jewelers at Avianne & Co. Justin tried on several different pieces while browsing throughout the whole showroom. He then landed on one of the company's signature 14K Solid White Gold Custom Jesus Head pendant retailing for $ 6,500.00. He then stayed in the showroom for a while and got acquainted with the whole team before leaving to his next meeting in New York.
The designers and craftsmen at Avianne & Co. are constantly developing and designing exciting new pieces to bring their loyal customer's ideas to life. While several companies offer similar services, it's the personalized approach, atmosphere, and overall experience that make the services provided by Avianne & Co. invaluable to artists and entertainers all over the world.