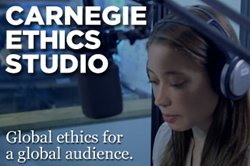 The mission of Carnegie Council is to enlarge the audience for the simple but powerful message that ethics matter, regardless of place, origin, or belief.
(PRWEB) November 21, 2014
Founded by Andrew Carnegie in 1914 and based in New York City, Carnegie Council for Ethics in International Affairs is an educational, nonprofit, nonpartisan organization that produces multimedia materials on the ethical challenges of living in a globalized world.
The Council holds over 80 events a year, featuring well-known experts discussing important issues from ethical perspectives that are too often ignored in the mainstream media. Podcasts of these events are available on iTunes. Go to http://www.carnegieitunes.org or access them at http://www.carnegiecouncil.org
The Council also offers two monthly podcast series:
Impact: Where Business and Ethics Meet
This podcast examines the evolution of global business and its related ethical questions, helping listeners to make purposeful decisions. Recent podcasts include a three-part series on big data.
Ethics in Security Bulletin
This interview series explores the ethical dimensions of issues around the world, from Eastern Europe to the Middle East, and discusses the role played by U.S. foreign policy and the West. Recent podcast include interviews with experts on Iran, Israel, and Ukraine.