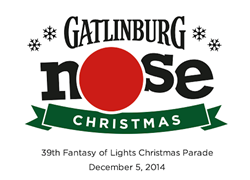 This year's parade will be one for the record books.
Gatlinburg, Tennessee (PRWEB) November 25, 2014
On December 5, 2014, Gatlinburg will attempt to break a Guinness World Record for most red Rudolph noses ever worn at a single event during the 39th Fantasy of Lights Christmas Parade. 2014 American Idol winner Caleb Johnson will host the event and be the Grand Marshal of the Parade.
When the Parade steps off at 7:30 p.m., 20,000 parade goers will be asked to wear a red Rudolph nose simultaneously for five minutes in attempt to break the current world record of 16,092 red noses, set in Australia in 2011.
"Gatlinburg "Nose" Christmas! This year's parade will be one for the record books," says Gatlinburg PR Manager, Marci Claude. "What is more fun than being counted as one of 20,000 people wearing red Rudolph noses during the parade? We hope everyone will come out and make history with us!"
Caleb Johnson is the winner of the thirteenth season of American Idol. The 23-year-old North Carolina native has already electrified audiences of millions with his commanding vocals and a fiery energy that honors his longtime love of hard rock and heavy metal. Fans will be able to meet Johnson at an autograph session from 2:00 p.m. to 4:00 p.m. on Saturday, December 6 at Ripley's Aquarium of the Smokies.
Gatlinburg "Nose" Christmas. For 39 years the award winning Fantasy of Lights Parade has thrilled more than 20,000,000 people with a parade line up of more than one mile of floats, marching bands from all over the east, large balloons, dancers, musicians, equestrian units and of course, Santa Claus. As a premier resort destination surrounded by the Great Smoky Mountains National Park, Gatlinburg, Tennessee has garnered national acclaim for providing quality, family-friendly entertainment, attractions, restaurants and lodging.
The parade begins at traffic light #1A on East Parkway at 7:30 p.m., winds through Gatlinburg and ends at traffic light #10. Parade-goers are encouraged to arrive early to find a spot on the Parkway to watch the parade and help break a world record.
The 39th Fantasy of Lights Parade and Gatlinburg "Nose" Christmas is sponsored by Ripley Entertainment and Guinness World Records. To join the conversation on social media use #GatlinburgNoseChristmas. For more information on how to participate in the record-breaking parade call (800) 588-1817 or visit http://www.gatlinburg.com/christmas.