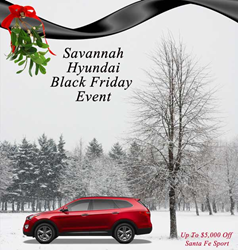 We decided to cut the price of the Santa Fe Sport in time for Thanksgiving! -- Mark Medinger, Savannah Hyundai
Savannah GA (PRWEB) November 21, 2014
Thanksgiving is one of the busiest travel holidays of the year. Long road trips to visit family and friends can be exhausting. The right vehicle can make a huge difference in comfort and sanity. Savannah Hyundai has recently reduced the prices on all 2014 Hyundai Santa Fe Sports. Many of the new Hyundai Santa Fe Models are on sale during Black Friday at a savings of $5,000!
"The Santa Fe Sport was named Family Car of the Year for its family friendly features and competitive price," says Mark Medinger, owner of Savannah Hyundai, "We decided to cut the price of this great family car just in time for your Thanksgiving road trip."
Why the Santa Fe Sport? Cars.com awarded the 2014 Hyundai Santa Fe Sport with the title Family Car of the Year. According to Cars.com, the 2014 Hyundai Santa Fe Sport "would be hard for financially-savvy and tech-appreciative families to pass over." They describe it as cozy, comfortable, and zippy. "We think the Santa Fe Sport is ideal for families because of the great gas mileage, cool sunroof, and flexible seats," explains Medinger. A long ride in the car with children can be a trying experience for even the most prepared parents. Features like backseats the easily slide back and forth and heated front and rear seats help make the road trip more manageable.
An ideal vehicle for a family road trip needs ample of space. The 2014 Santa Fe Sport offers over 35 cubic feet of cargo space. This should be plenty of room for Thanksgiving essentials like overnight bags, gifts, homemade casseroles, a bottle of wine and toys for the kids. "The Santa Fe sport is surprisingly roomy without being a bulky SUV," says Medinger.
According to AAA spokeswoman Cynthia Brough, Thanksgiving weekend is "one of the busiest travel weeks of the year, based solely on the fact that more people are on the road, it is a more dangerous time to drive." The Hyundai Santa Fe comes equipped with safety features like standard stability control, 4-wheel anti-lock disc brakes, active front head restraints and seven airbags. "You can also get the navigation system which will help you avoid traffic delays and give you alternative routes," says Medinger.
Why Savannah Hyundai? Savannah Hyundai is Georgia's flagship Hyundai dealership. Savannah Hyundai is located at 7011 Abercorn St Savannah GA 31406. Their sales department is open 7 days a week and their service department is open Monday-Saturday. Right now, they are offering 2014 Santa Fe Sports at reduced prices for a limited time. Check their website for inventory and specials at http://www.savannahhyundai.com or call them at 855-216-1960.