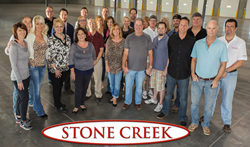 "It's been our long standing tradition to give our team the day off on Thanksgiving Day so they may be with their family and friends for the holiday."
(PRWEB) November 25, 2014
With many retailers demanding their employees work on Thanksgiving Day, Stone Creek Furniture (SCF) continues to lead the way of Phoenix based retailers to opt out of opening Thanksgiving Day. All four stores in the valley will be opening on Black Friday at 10 AM. SCF is proud to be a family owned and operated local business for almost 25 years here in Phoenix. "The majority of our employees have been with Stone Creek Furniture for 15 plus years," says Ron Jones, President of Stone Creek Inc. "It's been our long standing tradition to give our team the day off on Thanksgiving Day so they may be with their family and friends for the holiday."
Jones adds, "We enjoy being readily available to meet our clients' needs everyday, but this time of year, we are also all about family. Life goes so fast and quality time with family needs to be a valued priority. "
The company has over 90 employees from craftsmen, delivery drivers and installers, to office personal and a highly trained engineering and sales department. "We're extremely proud of the work we do here at Stone Creek, because we are not just selling cookie cutter furniture made in China, we are collaborating with each customer and design that one-of-a-kind piece of furniture or cabinetry for their home," says Jones.
Even though they won't be open Thanksgiving Day that does not mean they aren't giving great Holiday discounts! Check out their Holidays offers (Here) starting on Black Friday. What better way to start the New Year than taking your house to the next level with custom furniture the way you want it. Stone Creek will be open Friday morning after Thanksgiving at our regular time. The remainder of their holiday schedule will be opened until Christmas Eve. They will be closed Christmas Eve and Christmas Day, and then re-opened on Friday, December 26th for their New Year Sales Event.
SCF builds quality home theater, home office, bedroom, dining room furniture, along with custom kitchen cabinets and bathroom vanities. Stone Creek has four valley locations conveniently spread out across Phoenix, near Arrowhead Mall, in Scottsdale, Chandler and our Phoenix factory/showroom. To find locations and maps log on to http://www.stonecreekfurniture.com. Stone Creek's Designers are happy to give you some wonderful ideas to help you find the right look and function to fit your home. SCF is so very thankful to be of service to their over 20,000 customers for the past 25 years. They encourage you to "give it a rest" on Thanksgiving, and enjoy your friends and family on this special holiday.
For more information please contact Stone Creek Marketing Director Dean Moomey at 602-677-4574, or dean(at)stonecreekfurniture(dot)com