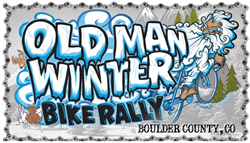 The Old Man Winter Bike Rally is our idea of an amazing day of adventure on the bike, followed by a huge after party...in the middle of winter...in Colorado.
Boulder, CO (PRWEB) December 04, 2014
Don't hang up your bicycle for the winter just yet. The Old Man Winter Bike Rally (OMW), a winter cycling celebration for bike aficionados and beer lovers, will debut in Boulder County, Colorado, on February 8, 2015. The OMW is a 50km or 100km adventure ride and race that promises dirt, snow, sweat, and beer, a hard-to-find combination for cyclists in the dead of winter.
To find out more, visit http://OldManWinterRally.com
"Our goal was to create an amazing experience that integrates two things near and dear to those along Colorado's Front Range: the epic riding in Boulder County and the passion fueling the growth of the area's craft beer industry. The Old Man Winter Bike Rally is our idea of an amazing day of adventure on the bike, followed by a huge after party...in the middle of winter...in Colorado," explains Josh Kravetz, owner of Adventure Fit, the company producing this event. "The riding is great year 'round in Boulder County and this means the fun doesn't have to stop when the temps drop. We want this to be a winter cycling tradition for locals and others who want to experience the terrain, beer, and bike culture that makes Boulder County famous."
The Old Man Winter Rally offers two courses, both starting and finishing at the Oskar Blues Brewery in Lyons, Colorado. The 'short course' is approximately 50km of scenic gravel and paved roads through rural farmland. It's designed to be a fun ride for riders who want to bundle up and enjoy the camaraderie and scenery. The long course is approximately 100 km and starts with the same country riding as the short course, then shoots riders into the mountains. Riders of the 'long course' will push themselves against the clock and their fellow competitors as they go up and down canyons, over primitive roads, and through a 'secret trail'. Part of the adventure is choosing the right gear to tackle extreme variations in terrain and temperature, and close to 5,000 feet of climbing in the majestic canyons west of Boulder. If Old Man Winter does decide to blow on event day, riders will be able to take a break at the well-stocked rest stations. Heat lamps, hot drinks, and real food will help everybody warm up.
Riders on both courses are encouraged to look for "Snowballs," hidden snowball like globes that contain raffle tickets for prizes that range from a custom $2500 REEB bike frame, to bike tune-ups, to apparel, to a hot cup of coffee.
Riders are welcomed back to Oskar Blues Brewery in Lyons for a post ride party with hot food, cold beer, and live music. Both short and long course riders are expected to finish around 2:30PM so they can enjoy the award ceremony for the fastest men and women, the 'Snowball' raffle, and an Oskar Blues craft beer while unwinding with a live bluegrass band.
The Old Man Winter Bike Rally raises money for Can'd Aid, the non-profit side of Oskar Blues Brewery dedicated to giving back and making a difference. Can'd Aid's Director, Diana Ralston, comments, "This event is right in our wheel-house and a perfect fit for Oskar Blues. We are excited that CAN'd Aid's "Treads & Trails" program will benefit from the inaugural race and look forward to hosting hundreds of bike enthusiasts in our hometown of Lyons." Funds raised will go toward rebuilding flood-damaged trails for hiking and biking. Other sponsors include Keen, CLIF Bar, Bicycle Times, Osprey, and Dirt Rag.
Courses, schedules, rules, prizes and other pertinent information is available at http://www.OldManWinterRally.com and http://facebook.com/oldmanwinterrally
Adventure Fit logo About Adventure Fit
Boulder-based Adventure Fit is a Sports Marketing company that specializes in connecting the right brands with the right events. Our deep understanding of the active marketplace allows us to develop creative events and results-driven solution for our clients. Founded on the slogan, "come out and play," Adventure Fit has produced some of the countries most popular sporting events, such as the New Belgium Urban Assault Ride and the Shape Diva Dash.
Oskar Blues About Oskar Blues Brewery
Founded as a brewpub by Dale Katechis in 1997, Oskar Blues Brewery launched the craft beer-in-a-CAN apocalypse in 2002 using a tabletop machine that sealed one CAN at a time. In 2008, the makers of the top-selling pale ale in ColoRADo, Dale's Pale Ale, moved into a 35,000-square-foot facility in Longmont, ColoRADo. The brewery has since experienced explosive growth--packaging 59,000 barrels of beer in 2011 and 86,750 barrels in 2012. In December 2012, Oskar Blues opened the doors to an additional brewery in Brevard, North Carolina. Together, the breweries packaged 120,000 barrels of beer in 2013, distributing trailblazing craft brews to 36 U.S. states.
http://www.facebook.com/OskarBluesCans
http://twitter.com/oskarblues
http://www.youtube.com/oskarbluescans
About CAN'd Aid Foundation:
The Oskar Blues CAN'd Aid Foundation was formed as an immediate response to the massive flooding that devastated our hometowns of Lyons & Longmont, CO, in September 2013. To date, CAN'd Aid has donated $700,000 for flood recovery and an additional $150,000 to charitable causes focused on outdoor rec, child & family advocacy, arts & culture and sustainability initiatives. Shakin' things up in the world of non-profits, the public charity features funky, fractured, grassroots grants to fund worthy projects from coast to coast. By putting our own spin on what charitable giving looks like, we're able to stay nimble, respond quickly and stay true to our roots. Every dollar raised by the CAN'd Aid Foundation is matched by Oskar Blues Brewery-doubling the "do-goodery" and maximizing the reach.