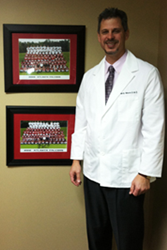 Johns Creek, GA (PRWEB) November 20, 2014
Dental patients with receding gums in Johns Creek, GA who are looking for an experienced and reputable general dentist are invited to schedule an appointment with Dr. Randolph S. Moore's office. Dr. Moore is one of the few dental professionals qualified to utilize the Pinhole Surgical Technique (PST™) as a treatment method for gum recession. This treatment option is significantly less invasive than other types of treatments and reduces the chances of bleeding, infection, and other complications that sometimes accompany traditional gum grafting procedures for gum recession.
Gum recession is a very common problem that can lead to increased tooth sensitivity and decreased confidence. Individuals who have receding gums are often plagued with feelings of embarrassment when they smile and are more likely to avoid showing their teeth whenever possible. Gum recession can be caused by a variety of factors, including poor dental hygiene, genetic predisposition, aggressive tooth brushing, gum disease, changes in hormones, tooth misalignment, and teeth grinding. Regardless of the cause, gum recession should be treated by a general dentist near Johns Creek, GA before more concerning complications develop, including the loss of one or more teeth.
Johns Creek, GA residents who receive PST™ for their gum recession symptoms can expect to have their condition treated in a single visit instead of being spread across several different appointments, as is often the case with gum grafting treatments. During the PST™ procedure, Dr. Moore inserts a small instrument through a pinprick in the gums, then uses the tool to push the gum tissue over the exposed area of the tooth. Because there is no need to cut or graft any gum tissue, there is very little bleeding and discomfort involved with the procedure, and patients experience minimal recovery times.
All Johns Creek residents who are living with the embarrassment and discomfort of receding gums are encouraged to seek treatment with Dr. Moore to minimize their symptoms and have greater confidence when they smile. Dr. Moore is a general dentist near Johns Creek, GA who can be trusted to provide highly effective gum recession treatment by utilizing the minimally invasive PST™ procedure.
About The Doctor
Dr. Randolph S. Moore is a general dentist offering personalized dental care for patients in the Buford, GA area for over 20 years. Dr. Moore received his degree from the University of Alabama in Birmingham, and completed his residency at the Veterans Hospital in Birmingham. Dr. Moore is active in the dentistry field and is a member of the Georgia Dental Association, the American Dental Association, American General Dentistry, American Academy of Cosmetic Dentistry and ICOI (International Congress of Oral Implantologists). To learn more about Dr. Moore and his dental services visit their website at http://www.smilemooredentistry.com/, or call (770) 545-6141.