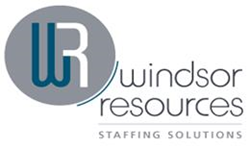 New York, NY (PRWEB) November 22, 2014
This month, our "Why Windsor" series highlights seasoned staffing professional Mike Zaremski, who joined our team as Division President following a diverse career path in public accounting, internal recruiting, and management. "I started in staffing 17 years ago and was fortunate enough to have had many mentors during this time. Ultimately, when I was working in public accounting I met a recruiter who was passionate, ethical and successful – I was hooked on the industry and never looked back," said Zaremski.
During this career, Mike became a client of Windsor Resources and was drawn to us because of our high ethical standards, the focus on customer service, and our ability to create viable solutions that matched the staffing needs of every client. Mike said his decision was a "no brainer" after meeting with CEO John Schapiro who validated the internal operations worked just like they were presented externally.
CEO John Schapiro went on to say, "We were excited to bring on Mike Zaremski because of his experience and leadership as both a staffing professional and Human Resources Dirtector at EisnerAmper. His leadership skills are essential for the role Mike holds at Windsor. I know that he will help us grow to be an even more solid player in the tri-state area, especially in the Accounting and Finance disciplines. All of us are going to gain from his expertise, work style and motivation. We are so happy he chose Windsor and hope we exceed his expectations in his career progression."
We asked Mike what are three of the important skills he brings to the table as a business leader and how this translates to his new job here at Windsor: "I believe that 1)vision 2)relationship management - or the ability to customize solutions – and 3) a sense of urgency to serve my clients are the most important skills to bring forth as a business leader. This translates simply into the ability to maintain focus and enables you to concentrate your efforts in the space for which you want to be viewed as a thought leader. Relationships add value to clients and candidates, and sense of urgency assists with creating a solution in a timely manner to address a client need."
Clearly, Mike's expertise extends to the ever-important task of training and development, where he says that knowing your focus and delivering a solid value proposition to both your client and candidate constituents is paramount. However, he cautions, one must be ready to manage multiple activities that are inter-related so that success can be measured in a variety of ways from client satisfaction to personal productivity.
Outside of Windsor, Mike has goals of being appointed to the board of a charity. Most importantly, he enjoys spending time with his family, which includes his wife of 23 years and five children! This mimics many of our other Why Windsor stories and really fits in perfectly with the "family-friendly" environment that is so important to the hard work and success of Windsor Resources.