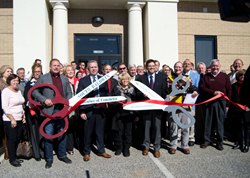 ORANGE BEACH, Ala. (PRWEB) November 21, 2014
Columbia Southern Education Group (CSEG) held a grand opening of its new 10,600 sq. ft. facility Wednesday in Orange Beach, Ala., with ribbon-cutting and a commendation presented by Alabama Rep. Stephen McMillan on behalf of Alabama Gov. Robert J. Bentley.
McMillan presented the document to CSEG President and CEO Robert Mayes. CSEG is the parent company of CSU and Waldorf College. University staff, faculty and leaders along with state and local officials came to show their support for the CSEG Center for Continuing Education building.
"I see this as continued economic growth for the area as well as an expansion of educational opportunities," said state Rep. Alan Baker.
State Rep. Randy Davis agreed, adding, "Baldwin County is a known as area that embraces education and now it to be able to have this level of higher education available and specialized skill training. This is extremely important for our state and nation."
Other dignitaries who attended were Valerie Day, field representative for U.S. Sen. Jeff Sessions, Orange Beach City Council members Joni Blalock and Jerry Johnson, South Baldwin County Chamber of Commerce President Donna Watts, Coastal Alabama Business Chamber President Ed Rodriguez and Allan Rice, executive director of the Alabama Fire College and Personal Standards Commission.
In addition to staff offices, meeting rooms and a large training area, the Center for Continuing Education also serves as the regional training center for the Alabama Fire College and Personnel Standards Commission. In the wake of economic cutbacks, Rice appreciates this as the regional center network in Alabama has helped the Fire College increase its enrollment by hosting advance fire training initiatives.
"We had more than 900 students served at regional centers last fiscal year, and we expect that number to increase and exceed 1,500," he said.
CSEG provides education and training solutions through Columbia Southern University and Waldorf College to help corporations meet their workforce needs.
Columbia Southern University offers online certificate and associate, bachelor's and master's degree programs in various fields such as human resource management, fire administration, occupational safety and health, criminal justice and business administration. To learn more, visit http://www.ColumbiaSouthern.edu.
Based in Forest City, Iowa, Waldorf is a liberal arts institution that offers regionally accredited residential and online degrees that address popular career skills such as organizational leadership, criminal justice, fire science, communications, human resource management and more. Visit http://www.Waldorf.edu to learn more.