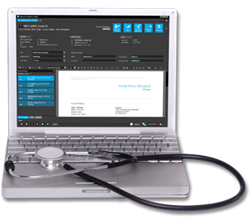 Winscribe Text v7.0 gives healthcare organizations the ability to achieve faster and more comprehensive documentation and improved data handling, allowing physicians to focus more time on patient care.
Auckland, NZ (PRWEB) November 24, 2014
Leading speech productivity and workflow provider, Winscribe, is excited to announce the release of Winscribe Text v7.0, an advanced reporting and management solution for healthcare organizations. The latest version has been presented to a number of NHS trusts and media at last week's Winscribe Customer Conference in the UK, titled 'The Paperless Agenda'. The Winscribe Text medical documentation platform handles all steps in the documentation process – from creation to distribution, and every step in between – and enables healthcare organizations to automate document-driven processes.
"Healthcare organizations around the world are facing the need to cut costs, while improving the quality of care and maintaining compliance with an ever increasing workload," explains Greg Allen, Chief Executive Officer of Winscribe. "They require a solution that helps them to capture and classify patient health information, route process-ready information to the point of care and continuously monitor productivity and data access. For physicians, every minute counts and paper-based documentation has the unintended consequence of lowering physician productivity. Winscribe Text v7.0 offers a solution to this challenge by giving healthcare organizations the ability to achieve faster and more comprehensive documentation and improved data handling, allowing the physicians to focus more time on patient care."
Product highlights available with the release Winscribe Text v7.0 include:
Fast, Flexible and Accurate Reporting – Winscribe Text has a user-friendly interface that gives medical professionals the capability to quickly create medical reports and other documentation via speech recognition, digital dictation, and self-typing – with or without transcription review. Healthcare professionals have the ability to use dynamic report templates, immediately approve documents via electronic signature, and send the reports for review or distribution – combining previously disparate tools to make clinical reporting much faster.
Compliant Data Management – Winscribe Text has configurable access control and advanced tracking and auditing capabilities, which help to ensure HIPAA compliancy and NHS clinical risk management procedures in the United Kingdom – leading to better patient safety.
Paperless and Integrated Health Information Management – Winscribe Text has the ability to integrate Health Information Systems, such as Patient Management Systems, EHRs, PACS and others, via HL7 feeds, XML or other common medical exchange languages and share data across systems. The integration capabilities assist healthcare organizations to reduce data duplication and improving data accuracy. In addition, electronic capture and automated distribution streamlines report creation and distribution processes, while helping organizations to adopt paperless strategies. With Winscribe Text, medical staff can have seamless integration with clinic schedules and appointments, and letters can automatically link referring physicians and other important clinical meta-data to the documentation process.
Automatic Document Distribution – Automated, intelligent and real-time document distribution methods are available via email, HL7 (integrated with a HIS), print, fax and file transfer. Real-time electronic information and reports enable improved service levels, boost clinician productivity, and assist healthcare organizations to improve patient safety.
Winscribe Text's security features also help to ensure all data files are encrypted and securely transferred via HTTPS transmission, and with Winscribe Text's tracking features, full HIPAA compliant auditing trails records when, who and what changes have been made within the system.
These features, combined with the ability to track the progress of work, enable clinicians and medical support staff to have all the information they need at their fingertips. This means healthcare professionals can spend less time and effort on producing, chasing up and sending critical documentation and reports.
Fausto Basso, Director of Software Development for Winscribe stated that:
"Winscribe Text v7.0 was developed in close communication with several of Winscribe's partners and healthcare clients, including physicians with different specialities and levels of experience in clinics, hospitals and health systems around the world. As the ease of physician adoption is one of the most important criteria for healthcare organizations when selecting health IT systems, it was imperative for Winscribe to understand how we can make our clients' lives easier and improve their work environment. The result of this cooperative effort is apparent in the latest release of Winscribe Text, as it transforms the way healthcare professionals capture and manage documentation processes."
To learn more about Winscribe Text and Winscribe's full suite of speech productivity and workflow management solutions, please visit http://www.winscribe.com.
About Winscribe:
Winscribe is a world leading provider of speech productivity technology supporting business requirements for digital dictation, transcription, speech recognition, speech-enabled documentation and workflow management. Founded in 1995, Winscribe has offices in the USA, UK, New Zealand, Australia and Switzerland, with more than 100 sales partners in over 25 countries supporting more than 350,000 users worldwide.
The Winscribe solution is built on Microsoft architecture, to ensure easy integration and maintenance. Winscribe also supports a wide range of manufacturer-independent dictation devices and is scalable from small, single office locations up to large multinational corporations. Winscribe is fully customizable to meet the needs of a number of significant vertical markets including Legal, Law Enforcement, Healthcare, Transcription, Insurance and Government Sectors. For more information, please visit http://www.winscribe.com.