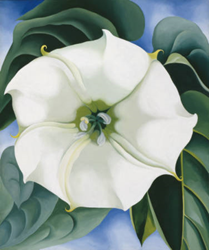 "We are excited about the record-breaking results of the Georgia O'Keeffe artworks. It is wonderful to see Georgia O'Keeffe's iconic artworks receive the recognition and valuation they deserve." -Robert A. Kret, Director of Georgia O'Keeffe Museum
New York, New York (PRWEB) November 20, 2014
This morning in Sotheby's New York auction of American Art, Georgia O'Keeffe's iconic flower painting Jimson Weed/White Flower No. 1 sold for a remarkable $44,405,000 – more than three times the previous world auction record for any female artist*. The American Art Auction of 70 lots went on to achieve a spectacular total of $75.4 million, well in excess of its $46 million high estimate, with ten works achieving prices over $1 million. Total for the three O'Keeffe paintings sold at the auction was $50,439,000.
Seven bidders competed for Jimson Weed/White Flower No. 1, but it was a prolonged battle between two determined bidders that drove the price to this record height – nearly three times the work's high estimate of $15 million. The work is a well-known example of O'Keeffe's celebrated flower paintings, which in turn stand among the most recognizable images in both art history and popular culture.
Jimson Weed/White Flower No. 1 was one of three works by the artist that were on offer today from the Georgia O'Keeffe Museum in Santa Fe, New Mexico, sold to benefit its Acquisitions Fund. Each work exceeded its high estimate, with On the Old Santa Fe Road (Left) fetching the second-highest price of the day at $5,093,000 (est. $2/3 million), and Untitled (Skunk Cabbage) (Right) selling for $941,000 (est. $500/750,000). This brings the group's total to a strong $50.4 million.
Robert A. Kret, Director of Georgia O'Keeffe Museum, said: "We are excited about the record-breaking results of the Georgia O'Keeffe artworks. It is wonderful to see Georgia O'Keeffe's iconic artworks receive the recognition and valuation they deserve. This sale will provide funding to strengthen and refine our collection, allowing us to represent the full breadth of Georgia O'Keeffe's artistic accomplishments."
Elizabeth Goldberg, Head of Sotheby's American Art Department, said: "The outstanding result for Jimson Weed/White Flower No. 1 places Georgia O'Keeffe's work in the top tier of 20th century artists on the market internationally, where it has always belonged. It was a particular privilege to present works on behalf of such a wonderful institution as the Georgia O'Keeffe Museum. To have achieved this result just one year after Norman Rockwell's Saying Grace set a new benchmark for this category at $46 million shows that there is an amazing appetite in today's market for gems of American Art."
VIDEO: GEORGIA O'KEEFFE DISCUSSES JIMSON WEED/WHITE FLOWER NO. 1
Separate release available with more details about the Autumn Auction of American Art.
ABOUT THE GEORGIA O'KEEFFE MUSEUM
To inspire all current and future generations, the Georgia O'Keeffe Museum preserves, presents and advances the artistic legacy of Georgia O'Keeffe and modernism through innovative public engagement, education, and research. Opened in Santa Fe, New Mexico in 1997, the Museum counts O'Keeffe's two New Mexico homes as part of its extended collection. The Museum's collections, exhibitions, research center, publications and educational programs contribute to scholarly discourse and serve a diverse audience. For more information please visit http://www.okeeffemuseum.org.
*The previous auction record for any work by a female artist was $11.9 million, set by Joan Mitchell's Untitled at Christie's New York in May 2014. The previous auction record for a work by Georgia O'Keeffe was $6.2 million, set at Christie's New York in May 2001
FOR MORE NEWS FROM SOTHEBY'S
Visit: http://www.sothebys.com/en/inside/services/press/news/news.html
Follow: http://www.twitter.com/sothebys & http://www.weibo.com/sothebyshongkong & WeChat (ID: sothebyshongkong)
Join: http://www.facebook.com/sothebys
Watch: http://www.youtube.com/sothebys
Sotheby's has been uniting collectors with world-class works of art since 1744. Sotheby's became the first international auction house when it expanded from London to New York (1955), the first to conduct sales in Hong Kong (1973), India (1992) and France (2001), and the first international fine art auction house in China (2012). Today, Sotheby's presents auctions in 10 different salesrooms, including New York, London, Hong Kong and Paris, and Sotheby's BidNow program allows visitors to view all auctions live online and place bids from anywhere in the world. Sotheby's offers collectors the resources of Sotheby's Financial Services, the world's only full-service art financing company, as well as private sale opportunities in more than 70 categories, including S|2, the gallery arm of Sotheby's Contemporary Art department, and two retail businesses, Sotheby's Diamonds and Sotheby's Wine. Sotheby's has a global network of 90 offices in 40 countries and is the oldest company listed on the New York Stock Exchange (BID).
Images are available upon request
All catalogues are available online at http://www.sothebys.com or through Sotheby's Catalogue iPad App.
# # #
PHOTO CREDIT:
Sotheby's New York
American Art
20 November 2014
Property from the Georgia O'Keeffe Museum Sold to Benefit the Acquisitions Fund
Georgia O'Keeffe
Jimson Weed/White Flower No. 1
Oil on canvas
48 by 40 inches (121.9 by 101.6 cm)
Painted in 1932
© 2014 The Georgia O'Keeffe Museum / Artists Rights Society (ARS), New York