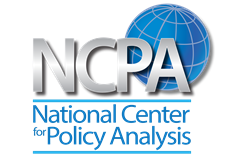 Congress and the states should repeal taxes on nonprescription drugs. The benefits (and cost-savings to the health care system) will far exceed the foregone revenue
Dallas, TX (PRWEB) November 21, 2014
Repealing federal and state sales taxes on over-the-counter, nonprescription drugs could save Americans more than $2 billion dollars a year, reduce unnecessary office visits, and curb national health spending, according to a new study by National Center for Policy Analysis Senior Fellow Devon Herrick.
With the passage of the Affordable Care Act (ACA), Congress essentially put an additional tax on over-the-counter (OTC) drugs by making them ineligible for reimbursement through programs like health savings accounts. Prior to the passage of the ACA, account holders could use pretax dollars to purchase OTC drugs, resulting in significant savings on medication. For example:

A middle-income family may face a marginal tax rate of 25 percent, a payroll tax of 15.3 percent, and possibly a state and local tax of 5 percent.
Thus, if an individual can use his pretax income to purchase OTC medication, he escapes that 45.3 percent tax.
This so-called Medicine Cabinet Tax costs Americans $400 to $500 million in additional taxes each year.
While most Americans think of hospitals, doctors, and prescription drugs when discussing medical care, many overlook the importance of inexpensive, OTC drug therapy. OTC drugs are significantly less expensive than prescription drugs, with just 1 percent of health spending going towards OTC drugs each year. Many OTC drugs are $10 or less and will last for months. By contrast, the average price for a name-brand prescription was $268 in 2011, compared to only $33 for a prescription filled with a generic drug.
According to Herrick, OTC drugs would save Americans nearly $5 for every $1 spent on a nonprescription drug by not having to schedule physician visits.
"Considering the immense benefits of convenient access to nonprescription drugs, it makes little sense to erect barriers to their use," says Herrick. "Congress and the states should repeal taxes on nonprescription drugs. The benefits (and cost-savings to the health care system) will far exceed the foregone revenue."
Patient, Heal Thyself: Why Congress Should Repeal the Medicine Cabinet Tax on Over-the-Counter Drugs: http://www.ncpa.org/pub/st362
The National Center for Policy Analysis (NCPA) is a nonprofit, nonpartisan public policy research organization, established in 1983. We bring together the best and brightest minds to tackle the country's most difficult public policy problems — in health care, taxes, retirement, education, energy and the environment. Visit our website today for more information.