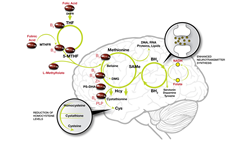 70% of patients won't achieve remission with a single medication.
Colorado Springs, CO (PRWEB) November 21, 2014
The 10th annual Neuroscience Education Institute (NEI) Congress took place in Colorado Springs this year, hosted by Stephen Stahl, MD, PhD, one of the most distinguished and renowned names in Psychiatry. For the second year, JayMac Pharmaceuticals attended with an exhibit focused on their cutting edge, natural prescription product for depression: EnLyte.
This year there were many educational sessions on inflammation, homocysteine, and depression. EnLyte ties in perfectly with these topics, as it is an advanced generation folate therapy by prescription that lowers harmful homocysteine across the blood brain barrier, maximizing neurotransmitter production.
All in attendance were looking for alternatives to treat their patients' depression-especially since recent findings show 70% of people won't achieve remission with a single medication and will need another added to their treatment (STAR*D Study). EnLyte is FDA-regulated to be used alone or added to a standard antidepressant. In fact, studies show adding a product like EnLyte to an antidepressant can get patients to remission twice as fast and cut significantly back on drop out due to side effects. EnLyte is so safe it is pregnancy category A.
Folate therapy is recommended by the American Psychiatric Association and the APA Task Force on Complementary and Alternative Medicine as an effective, reasonable choice to augment antidepressant therapy, and it has been used for years. EnLyte has been brought into the mainstream medical community as a prescription choice. that gives patients the confidence and affordability of a regulated drug, and preserves prescriptive authority for prescribers.
EnLyte contains L-methylfolate magnesium- a form with twice the solubility of the calcium form found in other preparations- folinic acid, and citrated folacin, plus all of the brain-ready b vitamin metabolites that are needed for neurotransmitter production: b1, b2, b3, b6, b12, plus betaine, zinc, magnesium, vitamin c, and PS gold omega 3's. In addition to depression, it has been shown to improve sleep and associated fatigue. A big plus for everyone is that EnLyte is affordable and paid for by Tricare, many state Medicaid plans, and most private insurance plans with an average copay of $44 per month. Visit http://www.EnLyteRx.Com for more information, or call EnLyte Customer Care at 985-988-7755.