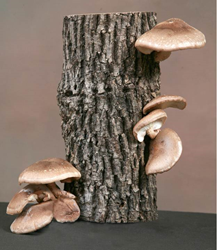 When logs have room temperature, day and night cycles, and plenty of water, they will keep growing mushrooms for years.
Perkins, OK (PRWEB) November 25, 2014
Shiitake mushrooms "bloom" out of Lost Creek Mushroom Farm's real hardwood logs loaded with shiitake spawn (the seed material). Grown inside like plants, shiitake logs are a perfect holiday gift for gardeners, mushroom lovers, foodies, and friends who love cool, quirky, long-lasting surprises.
"Hit them with ice water and in 3-5 days little buds, called pins, pop out. They grow, expanding to their full size in another three or four days, they're ready to grill or sauté and smother a steak," according to Sandra Williams, The Mushroom Lady of Lost Creek Mushroom Farm.
"The logs grow a few mushrooms to begin with and produce increasingly larger harvests as the shiitake keeps growing inside the wood. In the second and third year the whole log can be covered top to bottom with shiitakes. Talk about a gift that keeps on giving."
Logs are kept indoors like plants and can be placed outside in spring and fall rainy seasons for larger harvests. They require regular soaking in room-temperature, non-chlorinated water. Soaking them in ice water "shocks" the log into bloom with one of the world's favorite gourmet mushrooms. "The cold water fools them into thinking it's spring or fall with 70 degree days, 50 degree nights, and rain," Sandra explained.
The logs are made from sections of hardwood trees such as oak, gum, hickory and others. Sandra and her husband Doug, with friends and helpers, cut the logs, inject them with spawn and nurture them for 8-10 months before the mushrooms grow. (See how they do it here.)
"When logs have room temperature, day and night cycles, and plenty of water, they will keep fruiting – growing shiitakes – for years," Sandra said.
Lost Creek Mushroom Farm shiitake log kits are priced on shiitakemushroomlog.com from $18-$90, including shipping. They are available at slightly higher prices at Amazon.com.
Kits come with instructions and recipes. All logs over 8 inches long are guaranteed to grow shiitakes. Website prices include shipping. Lost Creek Mushroom Farm sells their Original Tray Kit with a 14-inch log and its own tray for soaking, fruiting, and storing the log for $49.95. The 10" single log kit sells for $29.95, and a 6" 'Shroomie for $18.
Kits with two logs can fruit every month by alternating the producing log, or they will produce more than each log alone when fruited together. "It's the pheromones," Sandra said, "they stimulate each other to grow more mushrooms."
The Ma & Pa Kit has two 10" logs for $49.95. The Best Buy is two Original Tray Kits shipped to the same address for $89.95, a savings of $10. "I like to say, 'Buy one for yourself and give one as a gift.' The Best Buy is a hot product in the holidays," the Mushroom Lady said.
Early ordering ensures availability. The number for phone orders and to request a free brochure is 1-800-792-0053.
Lost Creek Mushroom Farm donates a portion of its sales to the Williams' Mushrooms in Ghana Project, building a spawn production laboratory to serve northern and central Ghana in West Africa. "$8000 is all that remains for Ghana to have a consistent spawn supply for its small-scale mushroom farmers," Sandra said. "We want to meet that goal this year."