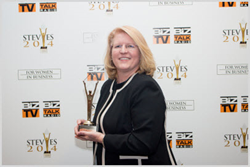 In short order the Stevie has become one of the world's most coveted prizes.
Dallas, Texas (PRWEB) November 25, 2014
Becca Wilson was excited when her name was called to receive the 2014 Woman of the Year Stevie Award for Technology - Business Services and Financial Services. The competition was heavy: 1,200 nominations across 22 nations; and the "Woman of the Year" categories were the most competitive. She had seen women from all over the world accept awards that evening during the presentation ceremony in New York City for women entrepreneurs, executives, and employees in business. Click here to see photos.
Becca has become acquainted with heavy competition since establishing Spherexx.com in 2000. Beginning with network services and expanding to website development, branding and print media, software development and implementation, and a host of Internet marketing tools, Spherexx.com grew from a one-woman operation to fifty employees in 2014. Spherexx is an INC5000 company with a long list of awards from such notable organizations as the Web Marketing Association, Academy of Interactive & Visual Arts, Summit International Awards, International Academy of Digital Arts & Sciences (Webby Honoree), Multi-Housing News Technology Choice Awards, and the Institute of Real Estate Management's "Women Changing the World of Real Estate Management" designation.
Becca Wilson, B.S. B.A., graduate of the University of Tulsa, was formerly the Information Technology Manager & Assistant Controller for Case and Associates Properties, Inc., a large, multi-family and commercial real estate management and development corporation based in Tulsa, Oklahoma. A visionary for technology on the horizon, Becca perceived the need for sophisticated, web-based solutions in the real estate management industries and launched Spherexx.com. Serving hundreds of clients nationally, Spherexx.com provides cloud-based services to meet the demand for integrity, imagination, innovation, and results-driven web development, marketing and management solutions.
The Stevie "Woman of the Year" award was awarded for her development of a yield management software service, RentPush.com, which was tooled to include new construction lease-up features that performed with remarkable success during 2013-2014. See video interview.
"The longevity of our client base is validation that we continue to exceed our clients' expectations," Wilson states, "We never made it our goal to be the biggest Ad Agency, Software Developer or Business Intelligence provider, but we have always striven to be the very best. Our products have built-in accountability. When you call our office, a human being answers the telephone. We have a high level of commitment to our clients and great determination in meeting their needs."
Spherexx.com's client base is composed mainly of companies involved in some aspect of real estate management; however, the company also provides services to many other industries as well: hotel, oil and gas, manufacturing, publishing, and B2C/B3B e-commerce.
The Stevie® Awards are the world's premier business awards. They were created in 2002 to honor and generate public recognition of the achievements and positive contributions of organizations and working professionals worldwide. In short order the Stevie has become one of the world's most coveted prizes.
In each Stevie Awards competition, the top scoring qualifying entry in each category will receive a Gold Stevie Award. Finalists that receive a final average score of at least 8.0 out of a possible 10 will be designated as Silver Stevie winners. All other Finalists will be designated as Bronze Stevie winners.
The name Stevie is taken from the name Stephen, which is derived from the Greek for "crowned." The crystal pyramid held aloft by Stevie represents the hierarchy of human needs, a system often represented as a pyramid that was developed in the 1960s by psychologist Abraham Maslow, who observed that after their basic needs are met, human beings seek the esteem of their peers.
About Spherexx.com® Advertising Agency | Software Development | Business Intelligence
Spherexx.com is recognized as an established leader for website, Internet marketing and software development services since 2000. With offices located in Tulsa, Dallas, and Houston, the company has been distinguished as one of INC5000's fastest growing companies.
Spherexx.com offers a wide selection of professional services including web design and development, touchscreen kiosks, Internet lead generation tools, online advertising, consulting, advanced mobile technology, apartment lease-up marketing consulting, and search engine performance. The company also provides branding services, video/multimedia production, print media, and copywriting, as well as website and email hosting, database solutions, pay per click, e-commerce solutions and custom programming.
The company has developed CRM (customer relationship management) products, marketing and lead generation tools that allow clients to better manage and convert leads to leases and sales and increase property values. These applications are branded under ApartmentWebsites.com™, Messagekast.com™, ILoveLeasing.com®, MarketSurveyTools.com™, RentPush.com® Revenue Management Asset Optimization and RentIntel™ Business Intelligence. Spherexx.com provides web-based prospecting, marketing, advertising management, and support services.