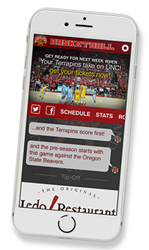 SignalShare's expanded LiveFi platform combines a powerful network, data analytics and a browser-based Fan Feed to create an intuitive way for venues to engage fans and deliver targeted promotions.
Morrisville, NC (PRWEB) November 21, 2014
SignalShare, the leading provider of mobile engagement solutions for mass audiences, today announced LiveFi nGage - an integrated product suite that helps venues to engage fans and drive revenues over their WiFi network. LiveFi nGage extends LiveFi's mPower high density networking solution, creating the first end-to-end platform for sporting, entertainment and corporate venues looking to enhance attendees' live event experience, while monetizing their WiFi network. 
"Our customers have entrusted us to design, install and optimize 250 million square feet of high-density WiFi networks for their temporary and permanent events, and they are asking to do more over our networks," said Joe Costanzo, founder and CTO of SignalShare. "SignalShare's expanded LiveFi platform combines a powerful network, data analytics and a browser-based Fan Feed to create an intuitive way for venues to engage fans and deliver targeted promotions to drive loyalty and improve their bottom line." 
LiveFi nGage consists of the following: 

Fan Feed: The nGage Fan Feed delivers a mash-up of event-related content, social feeds and promotions directly to attendees' browser, enabling fans to engage with event content and their social networks – all in one place. And because it's web-based, there's no download required. 
Data Analytics: The nGage analytics engine captures audience usage and interaction data over the WiFi network, revealing how attendees engage with digital content. This treasure trove of data helps venues optimize communications – putting the right content into the right hands at the right time and place.  
Monetization: nGage Monetization helps venues target promotions in order to drive concession, merchandise and ticket sales. As a messaging platform, LiveFi also provides a means for advertisers and sponsors to reach event attendees, delivering a new revenue stream for venues.    
SignalShare Analytics show that venue or event-specific native apps rarely show up in the top 10 apps accessed during an event by attendees. LiveFi nGage provides a means for venues to immediately engage with live event attendees over their browser, while also driving traffic to the venue's mobile app. Once attendees log onto event LiveFi, they are directed to a customized fan portal with real-time event-related news, messages and social posts. The Fan Feed's web-based capabilities allow for interactive features and content, such as crowd-sourced voting, and link into E-merchandise, ticketing and POS engines to deliver new revenue opportunities for venues. In addition, Fan Feed becomes an extension of venues' digital advertising strategy – enabling advertisers and sponsors to deliver targeted, actionable messages directly to attendees on their mobile device.  
"The widespread use of smartphones and smart devices – and the network congestion inherent in crowded venues – has created huge demand for reliable WiFi at major sporting and entertainment events and conferences," said Joe Costanzo. "With this platform expansion, SignalShare is building on its vision to make the network not just a pipeline – but a gateway through which venues can more intimately and seamlessly interact with attendees."  
SignalShare's LiveFi mPower high-density networking solutions already are in place across major entertainment, sporting and corporate venues - ensuring these venues can meet the massive data consumption demands of mobile users. LiveFi mPower leverages the latest technologies and best-fit infrastructure for the design, installation, operation and optimization of each network for peak performance regardless of venue or crowd size.
To learn more about SignalShare's solutions for the live event market, visit http://www.signalshare.com. 
About SignalShare 
SignalShare specializes in mobile engagement for mass audiences. The company optimizes wireless networks and empowers data-driven digital marketing initiatives to help organizers of large-scale live events connect with fans and guests in entirely new ways. SignalShare's proprietary audience engagement platform, Live-Fi™, leverages real-time analytics and dynamic messaging to deliver location-aware customized content – including offers, discounts and call-to-actions – to attendees' mobile devices during events. Top sports, entertainment and corporate brands, including The Sands Expo, Sacramento Kings, Houston Rockets, Indiana Pacers, IBM and the USTA U.S. Open rely on SignalShare to provide an exceptional fan experience. SignalShare is headquartered in Raleigh, NC. For more information, go to http://www.signalshare.com or visit us on Twitter @SignalShare.