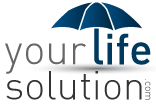 Chicago, IL (PRWEB) November 22, 2014
YourLifeSolution.com, a service which allows consumers to instantly compare life insurance rates entirely online, is today announcing its collaboration with Clopton Capital, a commercial lending firm based in Chicago, IL. The goal of this collaboration is to utilize YourLifeSolution.com's connections within the insurance industry to provide the best coverage for Clopton Capital's lending clients. "This is a clear win-win for everyone. We get increased business exposure and Clopton Capital gains a new income stream," said Eric Smith, the founder and independent agent of YourLifeSolution.com.
YourLifeSolution.com and Clopton Capital are both relocating to Florida within the next year for various reasons. YourLifeSolution.com intends to execute its endeavor into commercial general liability insurance immediately after their December entrance into Florida.
YourLifeSolution.com encourages all consumers to view their own life insurance quotes with YourLifeSolution.com's homepage or by calling Eric Smith at 888.374.2764. Those interested in commercial loans should contact Clopton Capital at CloptonCapital.com.