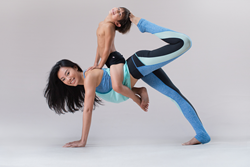 "This Season Is All About Thankfulness" Ada Hung
Los Angeles, CA (PRWEB) November 24, 2014
BaliniSports is announcing a private after Thanksgiving sale for fans. The event will kick off on November 26 and end on the following Monday. Loyal customers and new fans will have the opportunity to enjoy steep discounts on the brand's line of environmentally friendly, high-quality yoga apparel during this limited window.
"This season is all about thankfulness," said BaliniSports founder and creative leader, Ada Hung. "We're putting on this huge sale event to show our customers how thankful we are for their support and encouragement throughout the year. We're even opening up the sale to brand new customers who on our webpage because we're all about extending gratitude to the whole universe here at BaliniSports." The exclusive coupon code will be released during Thanksgiving week to anyone who visits the BaliniSports website to sign up to be on the company's email list.
BaliniSports offers a full line of yoga apparel that is created using anti-moisture fabric technology and eco-friendly dyes. Hung is committed to using quality fabric and production methods that ensure quality for customers and safety for the environment. The brand creates pieces that maximize performance on the yoga mat and create effortlessly stylish looks for everyday life. Pieces feature moisture-wicking technology, radiant colors and contoured fits. The private Black Friday sale will give customers a chance to mix and match various pieces and colors in their shopping carts before checking out and taking advantage of the promotion.
"We're talking about an extravaganza of yoga bras, yoga pants and yoga shorts that women can purchase as holiday gifts or keep for themselves," said Hung. "We're giving our customers the chance to pay half price for pieces that celebrities like Kim Kardashian have been photographed wearing." Hung stresses the idea that shoppers should sign up to join the BaliniSports email list as soon as possible to avoid missing out on the sale.
The BaliniSports Holiday sale will last from November 26 until November 30. Participants will receive a coupon code that entitles them to receive fifty percent off the price of yoga apparel. Interested parties can sign up to become a part of the brand's email list by visiting the BaliniSports website.