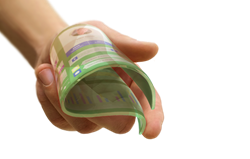 Most of the study respondents (90%) think that it is very important or somewhat important to have touch user interface in the wearable device and for touch to adapt to different forms in the product
Helsinki (PRWEB UK) 21 November 2014
According to the recent study done by Canatu, 98% of the respondents think that wearable technology markets will experience a significant growth during the coming years. Reasons for the growth are

Current material and technology development makes it available, easy and affordable to consumers
Electronics are getting smaller, more powerful and energy efficient
Technology allows less invasive devices that help people accomplish tasks either for fun, fashion or practical matters
Expansion of Internet of Things
Market hype
The study finds that more than half of the respondents (63%) think the main motivation for consumers to buy wearable devices is the development of new applications enabled by wearable devices, as well as new kinds of product designs adapting to different forms and the ability of wearable devices to connect with other electronic devices.
According to the study, the main technological challenges to overcome before truly wearable electronics can hit the markets are related to battery (30%), user interface (16%), applications (14%) and display technologies (12%).
Most of the study respondents (90%) think that it is very important or somewhat important to have touch user interface in the wearable device and for touch to adapt to different forms in the product.
Better convenience, better comfort, or more attractive use of the products are stated in the study as the prime reasons how flexible and formable touch technology improves the user experience of the wearable products. Flexible touch user interfaces also help to overcome current size and form limitations in wearable products and thus allow them to follow shapes, e.g. of the body.
Canatu addresses the growing demand for bendable and flexible touch sensors for use in flat, flexible or formable touch displays or touch sensitive surfaces in wearable devices. Canatu's next generation touch technology enables touch sensors to fold over edges, bend or flex around the device, and withstand tight bending angles without losing high conductivity.
With Canatu's touch sensors the display contrast can be improved up to 40% due to ultra-low reflectance and haze of the material. It also decreases external reflections in flexible display devices, such as smart watches or emergent curved, flexile or foldable portable devices.
If you are interested to receive a full summary of the study results, or lean more about Canatu's touch technology, please contact sales(at)canatu.com.
About the study
In fall 2014, Canatu conducted an online survey on the "Future of Wearable Touch Devices" with respondents mainly from the USA, the UK and the Nordic region, with a total of 60 respondents. The main industries represented were consumer electronics, fitness, wellness, healthcare, and medical. The scope of the respondents' businesses range from consulting to electronic products manufacturing. The majority of the respondents represented executive management, research & development, and sales and marketing.
For additional information, please contact:
Erkki Soininen, Vice President Marketing and Sales, tel. +358-40-574-1504, erkki.soininen(at)canatu.com
About Canatu
Canatu (http://www.canatu.com) is a leading developer and manufacturer of transparent conductive films and touch sensors for an entirely new class of touch applications. Canatu's transparent conductive films and touch sensors are based on a new type of carbon nanomaterial (Carbon NanoBud®), and a new, single-step manufacturing process combining aerosol synthesis of NanoBud® material and Roll-to-Roll deposition by Direct Dry Printing®. Canatu offers consumer electronics companies increasing design freedom with its innovative technologies.