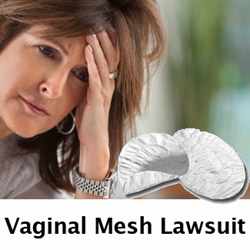 If you have suffered serious side-effect due to vaginal mesh implants contact Wright & Schuulte for a free legal evaluation by calling 1-800-399-0795 or visit www.yourlegalhelp.com
Columbus, OH (PRWEB) November 24, 2014
In what is the second vaginal mesh lawsuit verdict in a week, a jury has found in favor of four women and has ordered Boston Scientific to pay $1.8 Million in damages reports Wright & Schulte LLC. According to Reuters, the Virginia Federal Court jury handing down this vaginal mesh lawsuit Verdict found the companies bladder mesh implant defective and that Boston Scientific acted "In Gross Negligence" after they failed to warn physicians and their patients about the risks associated with their bladder mesh device. (In Re: Boston Scientific Corp., Pelvic Repair System Products Liability Litigation (MDL No. 2326)
Reuters has also reported that after a 10 day trial the jurors hearning the vaginal mesh lawsuits in a Virginia federal courtroom ordered Boston Scientific to pay the four women damages ranging from $3.25 Million to $4.25 Million. The women have suffered ongoing pain due to injuries they received after receiving the vaginal mesh implant.
The product injury attorneys at Wright & Schulte LLC note that this vaginal mesh lawsuit verdict is the third strike against Boston Scientific and their bladder mesh implants. Just last week a Miami jury, in the first federal vaginal mesh lawsuit trial, also found Boston Scientific's bladder mesh to be defected and awarded four women $26.7 million. According to Bloomberg, the jury also found the Massachusetts based company to be negligent after failing to warn doctors and their patients that their Pinnacle pelvic-organ implants were defectively designed. (14-cv-24061, U.S. District Court, Southern District of Florida)
[bloomberg.com/news/2014-11-14/boston-scientific-told-to-pay-26-7-million-in-mesh-case.html, November 14, 2014]
In another loss, court documents indicate, that a Texas state court jury hearing another vaginal mesh lawsuit awarded $73 million to a woman who suffered permanent injuries from the Obtryx bladder mesh sling. (Case No. DC-1214349, District Court for Dallas County, 95th Judicial District of Texas (Dallas))
Court documents further show that Boston Scientific is one of seven bladder mesh manufacturers involved in over 61,000 vaginal lawsuits pending in the West Virginia federal court that were filed on behalf of women who believe they experienced pelvic pain, bleeding, shrinkage, vaginal scarring and other problems as a result of having a vaginal mesh implant. In addition to Boston Scientific, the other companies involved in litigation include:

In re: American Medical Systems, Inc., Pelvic Repair Systems Products Liability Litigation (MDL No. 2325)
In Re: C. R. Bard, Inc., Pelvic Repair System Products Liability Litigation (MDL No. 2187)
In Re: Coloplast Corp. Pelvic Support System Products Liability Litigation (MDL No. 2387)
In Re: Cook Medical, Inc., Pelvic Repair System Products Liability Litigation (MDL No. 2440)
The firm is currently representing women from across the country in vaginal mesh lawsuits who experienced injuries from bladder mesh implants. For mor information and a free legal consultation contact Wright & Schulte LLC by calling 1-800-399-0795 or visit http://www.yourlegalhelp.com.
About Wright & Schulte LLC
Wright & Schulte LLC, a defective medical device law firm, is dedicated to the belief that America's legal system should work for the people. Every day, the attorneys of Wright & Schulte LLC stand up for the rights of people who have been injured or wronged by defective drugs and their side effects, complications from defective medical devices, and unsafe consumer products, and fight tirelessly to ensure that even the world's most powerful corporations take responsibility for their actions. If you're looking for a law firm that will guarantee the aggressive and personal representation you deserve, please do not hesitate to contact Wright & Schulte LLC today. Free transvaginal mesh case evaluations are available through yourlegalhelp.com, or call 1-800-399-0795.
Contact:
Wright & Schulte LLC
812 East National Road
Vandalia, Ohio 45377
1-800-399-0795
http://www.yourlegalhelp.com
Like us on Facebook
Follow us on Twitter
Join us on Google+