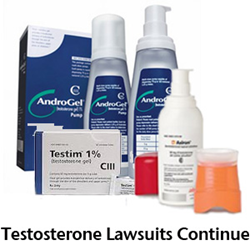 If you believe you have experienced cardiac events or other side-effects due to low testosterone treatment drugs contact the attorneys at Wright & Schulte LLC for a free legal evaluation by calling 1-800-399-0795 or visit www.yourlegalhelp.com
Columbus, OH (PRWEB) November 24, 2014
As parties prepare for testosterone bellwether trials in the U.S. District Court, Northern District of Illinois, Wright & Schulte LLC reports that 22 testosterone therapy lawsuits have been added in the past month to the consolidated proceedings currently underway in the federal court. The testosterone therapy lawsuits have been filed on behalf of men and their survivors who allege that they have suffered strokes, blood clots, heart attacks, and death due to using testosterone replacement therapy products, such as AndroGel, Androderm and Testim. The master case list shows that lawsuits against testosterone manufacturers increased from 201 as of September 15, 2014, to 223 cases, as of October 15, 2014. Court documents indicate that the testosterone complaints were centralized in June in the federal district court in Northern Illinois under the supervision of U.S. District Judge Matthew F. Kennelly. (In re: Testosterone Replacement Therapy Product Liability Litigation – MDL No. 2545)
[jpml.uscourts.gov/sites/jpml/files/Pending_MDL_Dockets_By_District-September-15-2014.pdf, September 15, 2014]
[jpml.uscourts.gov/sites/jpml/files/Pending_MDL_Dockets_By_District-October-15-2014.pdf, October 15, 2014]
In January, the U.S. Food and Drug Administration announced that it was launching an investigation into all FDA-approved testosterone products, such as AndroGel, AndrodermkAxiron, Depo-Tesosterone and Delatestryl that treat hypogonadism, which is a low level of testosterone in men due to an underlying medical condition. The FDA decided to reassess the safety of the drugs based on the agency's review of two studies that showed cardiovascular risks associated with testosterone use in older men. The first study published in the November 2013 Journal of the American Medical Association, found that older men who had underlying cardiovascular disease and took low testosterone treatment had a 30 percent increased risk of having a stroke, heart attack or death compared to men who did not take the low testosterone medication. The second study published in the PLOS One Journal on January 29, 2014, found that men over 65 and younger men with a pre-existing heart disease were at a greater risk of having a heart attack within the first 90 days after taking low testosterone drugs for the first time.
[fda.gov/Drugs/DrugSafety/ucm383904.htm, January 31, 2014]
[plosone.org/article/info%3Adoi%2F10.1371%2Fjournal.pone.0085805, January 29, 2014]
[jama.jamanetwork.com/article.aspx?articleid=1764051, November 6, 2013]
The FDA held a meeting in September for two of its advisory panels to weigh in on the issue of whether cardiovascular risks are associated with testosterone replacement therapy. The Bone, Reproductive and Urologic Drugs Advisory Committee and the Drug Safety and Risk Management Advisory Committee voted 20-1 in favor of the FDA restricting the population of men who should be prescribed testosterone drugs, including men who have problems linked with aging, such as low energy and libido, according to a New York Times report. The two panels also voted 20-1 to have testosterone manufacturers further examine whether use of their products is linked to cardiovascular risks. Bloomberg reported that testosterone use nearly doubled from 2010 to 2013, when 2.3 million men were prescribed testosterone treatment medication. The increased use translated into increased sales, particularly for AbbVie, which Bloomberg called the "market leader" of testosterone products. In 2013, AbbVie reported $1.04 billion in sales of AndroGel, its blockbuster testosterone topical gel.
[nytimes.com/2014/09/18/health/testosterone-drugs-fda.html?_r=0, September 17, 2014]
[bloomberg.com/news/2014-09-17/testosterone-drugs-may-need-further-study-on-heart-risk.html, September 18, 2014]
Court documents indicate that one of the testosterone therapy lawsuits was filed on behalf of a New Jersey man who alleges that he suffered a heart attack one month after taking Axiron. The lawsuit against Eli Lilly, the company that manufactures the testosterone drug Axiron, was filed on September 29, 2014 in the U.S. District Court, District of New Jersey.
According to the lawsuit, the man began taking Axiron in September 2012 and had a heart attack on October 3, 2012. The lawsuit contends that Eli Lily failed to warn about the increased risk of heart attack and stroke associated with Axiron. The Axiron further contends that had the New Jersey man's doctor been informed about the testosterone side-effects, he would not have prescribed Axiron. (Case 2:14-cv-06039)
About Wright & Schulte LLC
Wright & Schulte LLC, an experienced personal injury firm, is dedicated to the belief that America's legal system should work for the people. Every day, the attorneys of Wright & Schulte LLC stand up for the rights of people who have been injured or wronged and fight tirelessly to ensure that even the world's most powerful corporations take responsibility for their actions. If you're looking for a law firm that will guarantee the aggressive and personal representation you deserve, please do not hesitate to contact Wright & Schulte LLC today. Free low testosterone lawsuit case evaluations are available through yourlegalhelp.com or by calling 1-800-399-0795.
Contact:
Wright & Schulte LLC
812 East National Road
Vandalia, Ohio 45377
1-800-399-0795
http://www.yourlegalhelp.com
Like us on Facebook
Follow us on Twitter
Join us on Google+