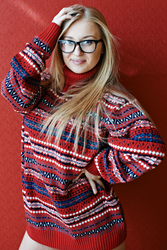 The uglier, the better. Every year, the whole month of December is full of laughter as we enjoy the ugly sweater contest."
Marietta, GA (PRWEB) November 27, 2014
"The uglier, the better," says Dr. Kirk Kimmerling. "Every year, the whole month of December is full of laughter as we enjoy the ugly sweater contest." Last year's winner, Tandy Wilson won by making a sweater from scratch. " It was a sight to see. She glued a lit Christmas tree, and if that weren't ridiculous enough, the Christmas balls were faces of the staff with Dr. Kimmerling on top.
For those interested in participating this year, it's simple to get in on the fun. Just show up at the dental office during office hours donning your ugliest holiday sweater and you will be entered. A winner will be decided by the doctors, staff and Santa Claus to be announced on December 31st, 2014. The winner can pick up the free Philips Sonicare Airflosser any time. Although staff is expected to participate, they are not eligible to win.
Last years contest was celebrated with Marietta Vet Clinic and veterinarian, Julian Peckich DVM. Dr. Peckich and staff will also don an ugly sweater. " The office plans on wearing the ugly sweaters on Fridays until the end of the year. It'll be fun because many of the dogs come in dressed with holiday cheer."
Kirk Kimmerling DDS and Suzanna Aguilera, DMD are Marietta cosmetic dentists and Marietta emergency dentists that are paving the way for the future of dentistry. The office is technologically sophisticated in not only equipment and procedures, but also developing dental materials via Kimmerling Holdings Group, LLC and fiteBac SkinCare, LLC, Dr. Kimmerling's biotechnology firms. The Marietta emergency dentists invite new patients to meet their exceptional staff and experience and benefit from state of the art dental care. The office offers a broad range of services from teeth cleaning, teeth whitening, dental whitening, dental veneers and Marietta dental implants, Marietta dental veneers, and dental bridges, dental crowns, crowns and bridges, dental fillings, tooth implants and veneer Marietta and root canals.
Kirk Kimmerling DDS, Suzanna Aguilera DMD and Garrick McGrath DMD are cosmetic dentists and emergency dentists at Verde Pointe Dental Associates. They are passionate about every patient's dental health helping people to achieve the smiles they've always desired. They offer a full range of dental services from teeth whitening, dental veneers, root canals, dental extractions, dental crowns, dental caps, dental bridges, full dentures, partial dentures, dental implants, mini dental implants, implant crowns, implant bridges, Kor teeth whitening, Zoom dental whitening and gum treatment. Cosmetic and emergency dentists available.