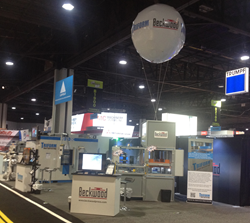 "We always enjoy showing veteran manufacturers the ways our technology can help them improve their processes, finished parts and profit margins." -Jeff Debus, Beckwood President
St. Louis, MO (PRWEB) November 21, 2014
Beckwood Press Company, manufacturer of advanced hydraulic press solutions and the Triform line of sheet hydroforming presses, announced today that it successfully demonstrated how its advanced pre-preventive maintenance technology can help eliminate unplanned downtime for manufacturers and how the use of simulation software, 3D printed tooling and sheet hydroforming is changing the game for manufacturers and allowing them to go from a concept to a finished part in less than 24 hours; at the FABTECH Expo in Atlanta, GA last week. The demonstrations received excellent feedback from the tradeshow attendees.
The 2014 FABTECH Expo was held last week at the Georgia World Conference Center, and Beckwood and Triform were among nearly 1500 other exhibitors visited by tens of thousands of attendees. To complement the live, in booth, demonstrations of their industry leading technology, Beckwood and Triform hosted an education session at the conference entitled "How to Go From Concept to Finished Part in Less than 24 Hours." The event was attended by leading engineering firms and top manufacturers, and as Beckwood expected, it was nearly sold out; so Beckwood also hosted a follow up webinar on the same topic through MetalForming Magazine on November 19th. A recorded version of this online seminar entitled "Art to Part" can be viewed at http://www.metalformingmagazine.com/multimedia/ under the "Sponsored Webinars" section of the page.
The Beckwood and Triform booth was visited by a vast array of manufacturers from across North America – leading companies from the aerospace, defense, automotive, energy, petroleum, lighting, and medical sectors were among those who stopped by to check out the new technologies demonstrated. Those topics and machines most inquired about were:

Ancillary Equipment Integration
Increased Uptime through Pre-Preventive Maintenance
3D Printed Tooling
Forming High Strength Materials such as Titanium, Inconel, Hastelloy, etc.
and more
"FABTECH is one of the most diverse conferences in the US, reaching manufacturers across the nation and around the globe. The event offers us the opportunity to share our leading technologies with clients and prospects alike," said Jeff Debus, Beckwood President. "We always enjoy showing veteran manufacturers the ways our technology can help them improve their processes, finished parts and profit margins," concluded Debus.
About Beckwood Press Company
The Beckwood Press Company is a leading hydraulic press supplier, located in St. Louis, MO USA. They offer quality, custom hydraulic presses for virtually every industry & application, including a line of high-temperature hot forming presses for forming structural aerospace components. Beckwood also manufactures the Triform line of Sheet Hydroforming Presses, which use hydraulic fluid in a flexible bladder, or diaphragm, to shape sheet metal or composite material against a single tool, as well as a line of stretch forming machines for both extrusion and sheet applications. Beckwood machines are valuable in any metal forming environment and are exceptionally well suited to operations working with high strength alloys such as titanium, Inconel, Hastelloy and others. Get the latest news from Beckwood at http://www.beckwoodpress.com/news.