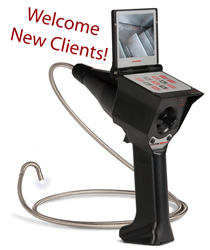 Traverse City. MI (PRWEB) November 24, 2014
The maker of the revolutionary VJ-Advance articulating video borescope, RF System Lab, is proud to announce new borescope inspection camera customers. RF System Lab's latest clients include companies in a wide variety of industries, including aerospace, casting, manufacturing, and aviation.
RF System Lab is proud to add the companies listed below, as well as many other impressive industry leaders, to its roster of satisfied customers in October.
One of RF System Lab's customers, representing the manufacturing industry, is Bath Iron Works. Bath Iron Works is a full service shipyard specializing in the design, building and support of complex surface combatants for the U.S. Navy. They had been using a competitor's scope, but after it recently broke and required over $10,000 in repair costs, they decided to purchase the affordable VJ-Advance video borescope for their weld integrity inspections. RF System Lab's low repair costs and loaner program – they ship a borescope out to you, free of charge, to use while your scope is being repaired – made the purchasing decision easy.
From the casting industry, Skilled Manufacturing is another company among RF System Lab's newest customers. Skilled Manufacturing, a company that is founded on the principles of hard work and ingenuity, is dedicated to continuous process improvement. That is why when they needed a precise and high-quality video borescope to check that their metal castings were free of burrs and had a smooth surface, they chose RF System Lab's VJ-Advance video borescope. With high-resolution on-board camera and video functionality, the VJ-Advance was the ideal choice for Skilled Manufacturing's toolkit.
Another new VJ-Advance customer is Provincial Aerospace, who uses the high-quality VJ-Advance video borescope for inspections of small turbine and turbo-prop engines. Provincial Aerospace is a global leader in Airborne Maritime Surveillance and a company that offers unparalleled experience and service to their clients, which is why they needed a video borescope that could ensure their reputation was upheld. The 3.9mm VJ-Advance is the perfect solution for turbine engine inspection needs.
RF System Lab is excited to have one of the premier aircraft repair and maintenance facilities in Southwest Florida, Switlik Aviation, as a new customer. Switlik Aviation's owner, Ed Switlik, is one of the most experienced professionals in the aviation industry and RF System Lab is grateful that after extensive research, he selected the VJ-Advance video borescope for his aviation inspections.
RF System Lab would like to extend a thank you to its newest clients, as well as all additional clients not listed here. If you would like to demo the VJ-Advance video borescope, you can sign up for a no-cost, no-obligation demo program. For more information on RF System Lab, please visit their website or call 855-787-6966.