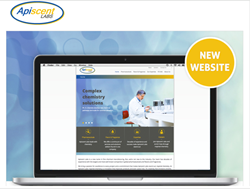 St. Francis, WI (PRWEB) November 23, 2014
Apiscent Labs, a privately held U.S. based manufacturer and supplier of fine chemical ingredients to the global pharmaceutical and flavor & fragrance industries announced the launch of its new website, Apiscent.com.
The Apiscent.com homepage welcomes visitors with a description of Apiscent Labs, clean design, easy navigation, rotating images and content focused on the qualities that make Apiscent Labs stand out.
The company's work in Pharmaceutical fine chemicals, Flavor & Fragrance fine chemicals and Expertise are all highlighted by clicking on the navigation bar at the top, rotating images or icons. As site visitors read through the site's pages, they'll see how Apiscent's deep industry experience, technical expertise and commitment to solving tough problems for customers all come together to create a continuum of chemistry solutions rarely found in one fine chemical ingredient company. In addition, a careers page highlights open positions at Apiscent Labs. Downloadable content and a full product database will be added to the site in the coming months.
About Apiscent Labs
Headquartered in St. Francis, WI, Apiscent Labs is a U.S. based manufacturer and supplier of fine chemical ingredients, supplying pharmaceutical and flavor and fragrance companies around the globe with world-class products and process development expertise. At Apiscent Labs, inspired chemistry enriches lives.