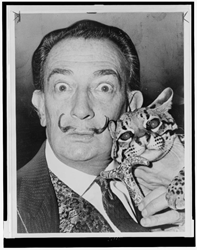 Maitland, Florida (PRWEB) November 24, 2014
The Art & History Museums – Maitland (A&H) announced the next featured exhibition in the Maitland Art Center will pair works by one of the most prolific artists of the twentieth century, Salvador Dalí with pieces by A&H founder, André Smith.
Art and the Subconscious: Salvador Dalí and André Smith opens during the Culture Pop! event on the evening of January 16 and will be on display until February 22, 2015. It is a combination of two unique exhibits focusing on works that push the boundaries of the mysterious and irrational.
Smith's eclectic works of cement sculptures and illusory watercolors reflect his inspiration from subconscious imagery. Dalí's "Conquest of Cosmos" works presents a series filled with distinctive characteristics of the Surrealist and his outrageous dreams and visions.
Surrealism originated in the late 1910s and early 1920s as a literary movement and later incorporated the visual arts as well. Influenced by the writings of psychologist Sigmund Freud, the Surrealists held firm beliefs that creativity came from deep within a person's subconscious.
Smith pieces are part of A&H's permanent collection and the Dalí artwork is on loan from the Dalí Museum, St. Petersburg, Florida.
Art & History Museums – Maitland is home to five museums celebrating contemporary art through exhibition, research, residencies, and education, as well as honoring the history of Central Florida through preservation and hands-on history programming. The A&H's Maitland Art Center recently became the first National Historic Landmark in the four-county region, and only one of only 44 in Florida.
Located near Lake Sybelia at 231 W. Packwood Ave., the Art & History Museums – Maitland serve as a premier cultural destination and community gathering place. The A&H's Maitland Art Center is open Tuesday – Sunday from 11:00 am – 4:00 pm. Admission is $3 for adults and $2 for seniors (55+) and Children (4-18). Annual memberships start at $30 and include unlimited admission to all five museums.