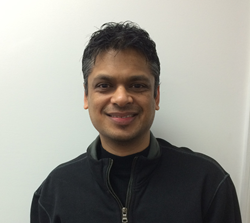 "Alvin is smart, articulate and an incredibly skilled coder. His passion for programming is evident and he loves to be challenged." - Jim Lewis, CEO of Enhanced Retail Solutions
New York, NY (PRWEB) November 25, 2014
Varendra "Alvin" Das has accepted the position of Software Developer & Data Specialist at Enhanced Retail Solutions, a top provider of solutions to suppliers of the retail industry for use in analyzing their products' retail sales and trends as well as improving inventory productivity.
While ERS's overseas development team has been creating exceptional software, the company felt the need to expand its US development team to fill the increasing need for software customized to their clients' needs.
Alvin has many years of IT experience under his belt, arriving at this profession after completing a PhD in Astronomy at Georgia State University. He cites the "rapidly changing landscape of computer technology" as one of his main draws to the profession. As a highly mathematical and logical person, Alvin's researching skills and problem solving abilities will be a great asset at ERS.
Alvin's first project is the development of a web based version of Item Planner, a must-have tool for planners who need to consistently monitor sales, inventory and profitability of their retail programs. Plans are based on sales and inventory history, seasonality, the promotional cadence and profitability requirements. Users will be able to group similar items and combine their histories before calculating the results for future sales. There will also be the option to use past sales trends to calculate a 'sales curve' of items without histories.
"Alvin is smart, articulate and an incredibly skilled coder," says Jim Lewis, CEO of Enhanced Retail Solutions, "His passion for programming is evident and he loves to be challenged."
About Enhanced Retail Solutions LLC
Enhanced Retail Solutions is a New York based software and consulting firm specializing in retail analysis and Demand Planning for the manufacturer and their retail partners. ERS' state of the art software tools and consulting deliver critical data quickly, easily and cost effectively, adding over one hundred million dollars to their clients' bottom line. ERS' broad customer base includes industry leaders in the Apparel, Footwear, Home Textile, Toy, Home Décor, Home Improvement, Electronics, Consumer Products, Housewares and Food Industries. For more information, visit Enhanced Retail Solutions.