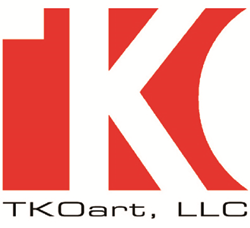 "We firmly believe that art is good for the heart, the soul, and the mind, whether you're sitting behind a desk or relaxing in your living room," said Thompsen. "We are all about sharing our passion for art."
Irvine, CA (PRWEB) November 24, 2014
Orange County-based art consultancy TKOart and its co-founders, Troy Thompsen and Heather Katz, have been named to the Orange County Register's coveted Hottest 25 list for 2014.
The November issue of the newspaper's companion magazine, OC Metro, is dedicated cover to cover, not only to this year's 25 honorees, but to a celebration of the 25th anniversary of the popular list itself.
"We are thrilled to be standing alongside these spectacular individuals," said Katz, a southern California native and graduate of Orange County's University of California, Irvine. "This recognition has validated our belief in the value of art in society today. It motivates us to pursue our passion with corporate and residential clients, both locally and farther afield."
Culling through hundreds of contenders, a team of OC Register editors and writers narrowed their selection to 25 standouts, who through innovation, altruism, passion, and sheer talent, are making Orange County, California, proud. Honorees range from an actress to an astronaut, from educators to entrepreneurs. TKOart's infectious, joyful, client-centric approach to the business of art caught the attention of the magazine's editors, just as it has landed the firm some of its newest clients, including Deckers Outdoor Industries, and Sanuk International, whose corporate headquarters are being "artified" from reception all the way to receiving.
"We firmly believe that art is good for the heart, the soul, and the mind, whether you're sitting behind a desk or relaxing in your living room," said Thompsen. "We are all about sharing our passion for art."
Read about TKOart (page 12) and the rest of Orange County's Hot 25
About TKOart
TKOart is a full-service art consultancy that offers clients a one-stop shopping experience. TKO specializes in fine art acquisitions and commissions; custom art design and fabrication; exhibition and event management; framing, lighting and installation. They also provide expert consulting services in space planning, rotating or permanent corporate art collections, budget planning, and fine art appraisals.
Since its inception in 2005, TKOart, along with its creative offshoot, TKOfx, has installed more than 100,000 works of art in hotels, high-end residences, businesses and corporate headquarters. The firm is known for its custom-designed, custom-built, larger-than-life three-dimensional sculptures, and for its multifaceted approach to bringing works from recognized and emerging artists to public and private spaces.
Katz and Thompsen's love of art goes hand in hand with their joyful interactions with artists, designers, partners, and clients. Entertainment industry clients have included MGM Studios, Disney, Capital Records, Warner Brothers, and 20th Century Fox. Corporate clients include Boeing, the James Irvine Foundation, City National Bank, and MetLife. TKOart also has provided consulting and art procurement services to innumerable private collectors, including well-known Hollywood personalities.
Media Contact: Charlotte Novom | Novom Marketing, Inc. | 714.941.9799
# # #