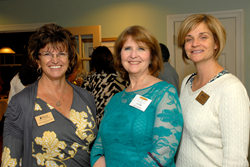 Program Director Laurie Tranchell, a certified dementia practitioner, says the program's goal is to make certain that "residents feel empowered, have a voice and continue to lead dignified and meaningful lives."
Hingham MA (PRWEB) November 24, 2014
More than 50 professionals attended a "Thank You" reception and celebration of the First Anniversary of Allerton House at Harbor Park's Memory Care Neighborhood. The Welch Healthcare and Retirement Group Assisted Living Memory Care Program in Hingham opened one year ago. Alzheimer's disease affects more than five million Americans, according to the National Alzheimer's Association. Additionally at least 15% of those who are caring for a loved one with Alzheimer's disease do so long distance.
The Allerton House Memory Care Program in Hingham, MA, provides a secure neighborhood with intimate, home-like accommodations for 16 residents. Program Director Laurie Tranchell, a certified dementia practitioner, leads a staff with specialized training in caring for individuals with dementia. Tranchell says the program's goal is to make certain that "residents feel empowered, have a voice and continue to lead dignified and meaningful lives."
Features of the Memory Care Program at Allerton House in Hingham include but are not limited to:

A dedicated staff, with specialized training in dementia care, available 24 hours a day
Personal care assistance and medication management
Three nutritious meals daily in the Memory Care Dining Room
A secure environment, featuring a wide range of indoor and outdoor common areas
Engaging activities and events, designed to promote positive, satisfying experiences
Life enrichment programs offered through the Memory Care Program at Allerton House in Hingham create meaning and purpose by addressing the limitations of an individual's memory loss. Additionally a monthly Caregiver Support Program held at Allerton House in Hingham offers education and understanding for families and friends supporting their loved ones. For more information about this Welch Healthcare and Retirement Group Memory Care Program, contact Carol Taylor via email at ctaylor(at)welchhrg(dot)com or by telephone at 781-749-3322.
For more than 65 years, Welch Healthcare and Retirement Group has been providing continuum of care services to seniors and their families who may need housing or care options, including independent living, assisted living, short-term rehabilitation and long-term care, Alzheimer's care, adult day health and home care services. Residences and skilled nursing centers are located in Brighton and throughout the South Shore of Massachusetts in Braintree, Duxbury, Hingham, Marshfield, Quincy and Weymouth. To learn more, visit: http://www.welchhrg.com