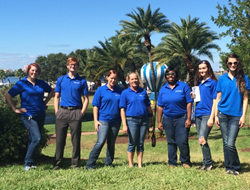 It is particularly impressive that an organization of NTC's size...is willing to provide assistance at local events that are beneficial to the whole community.
Clearwater, FL (PRWEB) November 24, 2014
On October 18, NTC (Nationwide Title Clearing, Inc.) participated in a big way for the 2014 Clearwater Jazz Holiday event. Wearing their signature blue polo shirts, NTC staff volunteers were stationed at the VIP table, working alongside some of Tampa Bay's most notable political candidates, senators, and CEOs. NTC's 20 staff and 8 family members contributed a total of 98 volunteer hours during the company's second consecutive year volunteering for the event, and members are already looking forward to the next opportunity to serve their community.
Clearwater Jazz Holiday has become a local staple, this year celebrating its 35th anniversary in the community. NTC's professionalism and positive attitude were noted again this year by event officials, and some staffers worked two shifts because they were enjoying themselves so much, says Janice Rush, NTC Community Relations Director.
"We were able to hear the music when we worked, so the atmosphere was relaxed," Rush said. "When we finished volunteering…we could enjoy the show and fireworks from the seating area in the front of the stage."
Rush and other NTC staff members were present for Saturday's line-up that included a full evening of events, beginning with TomKats Jazz Orchestra with special guest Katt Hefner at 1:30 p.m., and ending with Dr. John & The Nite Trippers at 9:15 p.m. Fireworks were presented by HCA West Florida Pinellas County Hospital at 10:45 p.m.
Rush said she appreciated the extensive coordination that event staff made with her group. Volunteer positions are an essential part of running a large, weekend-long event like Clearwater Jazz Holiday. Bob Childress, CEO of Solace Insurance and President Emeritus on the Board of Directors for Clearwater Holiday Jazz Festival, expressed his thanks to the volunteers who manned the event.
"We truly appreciate the support of all of our volunteers," Childress said. "It is particularly impressive that an organization of NTC's size – with several hundred employees – is willing to provide assistance at local events that are beneficial to the whole community."
The Clearwater Jazz Holiday Foundation supports music and arts education in the Tampa Bay area, providing scholarships to local students interested in pursuing jazz music and providing opportunities for students to experience jazz in a hands-on way. Altogether, the hours that NTC spent volunteering equated to approximately $1,000 in revenue earned for the foundation. According to the Florida Division of Cultural Affairs, "students with an education rich in the arts have higher GPAs and standardized test scores, lower drop-out rates, and even better attitudes about community service...regardless of socio-economic status."
NTC maintains strong ties to the Tampa Bay community by participating in several key causes and endeavors. This year alone, staffers have contributed to a company-wide blood drive, the Annual Palm Harbor Citrus Festival, Habitat for Humanity, Relay for Life, and the North Pinellas Branch of YMCA of the Suncoast.
About NTC:
Based in Palm Harbor, Florida and founded in 1991, NTC (Nationwide Title Clearing, Inc.) is a privately-owned leading research and document-processing service provider to the residential mortgage industry. NTC services mortgage lenders, servicers and investors, including eight of the top 10 residential mortgage servicers in the country. NTC is known for delivering the highest level of accuracy in research services and quality document processing that set the industry standard while protecting homeowners, assisting the mortgage banking industry and preserving the nation's land records. The company's land records and document experts are able to track and fulfill county document requirements in all recording jurisdictions nationwide, which is close to 3,600 different jurisdictions. NTC specializes in providing land records research, property reports, lien release services, assignment services, final document tracking, document retrieval and other custom business solutions. NTC's expansion is tied to their contribution to their industry and their local community, ranking number 13 on the Tampa Bay Business Journal's 2014 Fast 50 Awards list of fastest growing companies in Tampa Bay, and number 2,097 on the 2014 Inc. 500/5000 list of fastest-growing companies in America. NTC also won the Inc. Hire Power award for the second consecutive year in 2013 for putting Americans back to work. For more information, visit the company's website at http://www.nwtc.com.