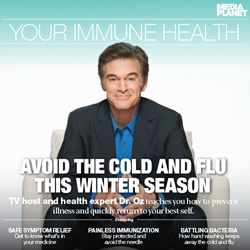 A healthy diet and exercise are the best ways to keep your immune system strong. Studies show that those who exercise regularly experience fewer colds.
(PRWEB) November 24, 2014
The print component of Your Immune Health is distributed within today's Home and Business subscription of the Toronto Star, with a circulation of approximately 230,433 copies and an estimated readership of 622,169. The digital component is distributed nationally through a vast social media strategy and across a network of top news sites and partner outlets. To explore the digital version of the campaign, click here.
The publication features an exclusive interview with trusted health expert, best-selling author, and world-renowned cardiac surgeon, Dr. Mehmet Oz, the three-time Emmy® Award-winning host of the five-time Daytime Emmy®-winning The Dr. Oz Show. He shares the best ways to be prepared for cold and flu season, noting "a healthy diet and exercise are the best ways to keep your immune system strong." He adds, "getting your flu shot is the best way to protect yourself from the flu each season."
Tenille Lafontaine, writer behind the Fiesty, Frugal and Fabulous blog shares her 5 best tips on how to protect you and your family from the cold and flu. Additionally, Dr. Nardine Nakhla, Community Pharmacist & Pharmacy Professor, reveals the facts on the cold, flu, and over-the-counter (OTC) medications used to provide relief: "Start by speaking to your pharmacist as they are medication experts. Read the labels of any products you are considering, and think about the active ingredients in these products in context of other medicines you are already taking."
Special thanks to Johnson & Johnson, Clorox Canada, and Henkel Consumer Goods of Canada among others for their support and contributions in the making of this campaign.
About Mediaplanet
Mediaplanet is the leading independent publisher of content-marketing campaigns covering a variety of topics and industries. We turn consumer interest into action by providing readers with motivational editorial, pairing it with relevant advertisers, and distributing it within top newspapers and online platforms around the world.
Press Contact:
Jacob Weingarten
Jacob(dot)weingarten(at)mediaplanet(dot)com
416-583-2224