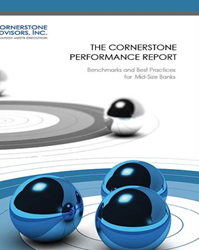 The brutal truth is that if mid-size banks continue to underinvest in digital delivery and payments, they risk their survival in failing to serve customers.
Scottsdale, Arizona (PRWEB) November 24, 2014
A research report newly released by management consulting firm Cornerstone Advisors, Inc. shows that over the past two years, mid-size banks have made negligible progress on revenue growth and have not changed their business models to become more efficient and drive innovation in critical business areas.
The Cornerstone Performance Report: Benchmarks and Best Practices for Mid-Size Banks maintains that the current banking model is failing to generate top line revenue and warns that the biggest threat mid-size banks now face is backsliding into a no-growth death spiral.
This year's Cornerstone Performance Report is the seventh in a series of surveys covering over 300 measures of productivity, staffing, technology utilization, and spending across 16 different areas. The report defines mid-size banks as those with assets of $1 billion to $40 billion.
The trend of stagnant growth evidenced in this study as compared to data from Cornerstone's 2010 study, especially as it relates to digital delivery, is depicted in key report findings:

Branch sales and teller transaction volumes are dropping noticeably.
The median bank branch originates only five consumer loans per month, demonstrating a continued disinterest in the consumer lending space and an inability to leverage the investment in an expensive branch network.
Internet banking growth leveled off with only 45% of mid-size bank checking account customers actively using Internet banking and only 8.4% using mobile banking.
For the third straight study, the median percentage of consumer loans taken through the Internet was 0%. (Data from Cornerstone's credit union report illustrates that high performing CUs originate 30% of their loans on line.)
The median for mortgage loans taken through the Internet was 5%. While this is up from 1.5% in the last bank study, the small percentage shows a lack of maturity in loan delivery, especially given the rise of non-bank online lending competitors.
Payments adoption grew only incrementally. A median 93% of consumer checking accounts have an active debit card and only 10% of commercial checking accounts report active cash management use.
The median bank marketing department spends seven times more on donations and community sponsorships than it does on the increasingly important digital channels.
"Both new deposit and new checking accounts opened per branch have dropped to their lowest levels since Cornerstone began benchmarking 15 years ago," said Scott Sommer, president and chief executive officer of Cornerstone Advisors. "Customer convenience is defined differently now," Sommer observed, "and the brutal truth is that if mid-size banks continue to underinvest in digital delivery and payments, they risk their survival in failing to serve customers."
Sommer pointed to some opportunity in mitigating the risk. "A great start for mid-size banks would be to apply more purposeful discipline to management accountability through the use of benchmarks and the implementation of best practices. In bank consulting engagements, we have found benchmarking to bring both focus and results in performance execution."
The report maintains that needed expansion in revenue, customers, and production volumes will require organizational focus on delivery channel management, marketing, analytics, process excellence and talent. "However efficiently banks may be operating now, many are operating an old-line business model where revenue is being disrupted by a digitally networked economy," said Steve Williams, a founding principal at Cornerstone Advisors. "More leadership will be required to be a high performing bank. We are way past the point of crossing our fingers and hoping for growth."
# # #
Founded in 2002, Cornerstone Advisors, a management consulting firm focused exclusively on mid-size banks and larger credit unions, provides an array of customized solutions designed to assist financial institutions with their Strategic, Performance, Technology, Contract, Payment and Channel initiatives. The Cornerstone team founded industry renowned GonzoBanker and authors The Cornerstone Performance Report, a series of seven authoritative benchmarking and best practices studies for both mid-size banks and credit unions.