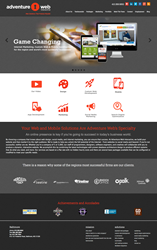 Baltimore, Maryland (PRWEB) November 23, 2014
Adventure Web Interactive (AWI), an award winning web design, development, and digital marketing firm, is pleased to announce the launch of its new, cutting edge website, http://www.advp.com. Designed with the customer in mind, AWI's new site is visually pleasing, easy to navigate, and, perhaps most importantly, fully responsive. The website automatically scales to fit any device, whether a desktop, laptop, tablet, or mobile phone.
"Our new website showcases clean, responsive design, improved functionality, and enhanced rich content focused on the company's mission to continue as a leader in website development and internet marketing," said Charlie Strouse, Vice President of Adventure Web Interactive.
The new AWI website includes the following site enhancements:

Updated Look and Feel: AWI's new site features an updated design users are sure to find visually pleasing.
Improved Navigation: The new site is easy to navigate, making it easy for users to find exactly what they need without aimlessly clicking.
Responsive Design: Designed to provide an optimal viewing experience for users, the new AWI site automatically scales itself to fit any device.
"We often hear our clients tell us that they had such a hard time finding an agency that is competent in both marketing and internet technology," said Strouse. "We have a well-rounded team with strong backgrounds in both, and I think that is why we have been able to maintain strong growth and minimize client attrition by creating value for our 1000+ clients."
About Adventure Web Interactive:
Founded in 1997, AWI, then Adventure Web Productions, has quickly grown to be one of the largest web design and development firms in the Baltimore-Washington area. Over the years, AWI added marketing and mobile app development to its services, constantly staying on top of the latest industry trends.
AWI holds a Triple A rating from the Better Business Bureau and has been named one of Baltimore's Top 100 Best Run Companies for 2012 by SmartCEO magazine, one of Baltimore's Best Place to Work 2011 and one of the Largest Web Design Firms in Baltimore by the Baltimore Business Journal, and has received the BBJ's Excellence in E-Business Award.
Contact AWI today and start finding solutions to your Internet marketing challenges.