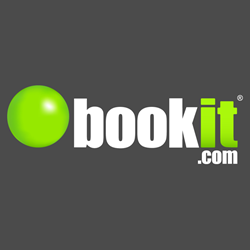 Panama City Beach, FL (PRWEB) November 21, 2014
Black Friday is the ultimate holiday for the dedicated, deal-savvy shopper willing to venture out in the middle of the night to get in on the action during the greatest sale of the year. But times have changed, and this popular shopping holiday is no longer reserved exclusively for the retail industry. In fact, there are a growing number of consumers taking advantage of travel and vacation deals.
BookIt.com, a leading online travel site focusing on resort destinations, has recognized growing interest in online travel deals during this heavy shopping holiday.
"We'll be featuring the best deals of the year for travel to high-demand destinations, giving people the opportunity to book their dream vacation, even if they're on a budget," said Jesse Henson, BookIt.com Vice President of Marketing.
In recent years, BookIt.com has begun hosting increasingly popular sales surrounding this peak shopping period. Last year, BookIt.com reported an astounding 80% increase in vacations booked on Black Friday, and an even more impressive 190% increase over the internet shopping holiday, which takes place the Monday following Thanksgiving.
Starting Tuesday, BookIt.com will be featuring a 99-hour sale, offering the best, exclusive deals on hotels and resorts throughout Mexico, the Caribbean, and popular US vacation destinations. The sale will include savings of up to 70% off, plus free room upgrades, flight credits, tickets, tours, and more. Guests can take advantage door-buster-like savings, as well as limited-time promo codes which may be offered only during certain hours of the day. Users can stay up to date on promotion details and special invite-only savings through BookIt.com e-mails (free subscription required) or by following BookIt.com on social media.
About BookIt.com
BookIt.com is a privately-held online travel agency providing customers travel packages to leisure destinations in the United States, Mexico and the Caribbean. BookIt.com offers customers the ability to search for and book a broad range of travel products and services, including hotels, air travel, car rentals, cruises, travel insurance and destination services from suppliers.