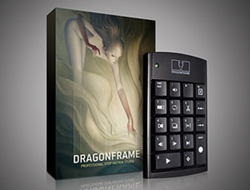 Ojai, California (PRWEB) November 24, 2014
DZED Systems LLC develops Dragonframe stop motion animation software–used by top studios for feature films, music videos, commercials, and broadcast television series. The powerful software simplifies stop motion animation with integrated USB control of Canon and Nikon DSLRs. Dragonframe 3.6 adds support for popular DSLRs and digital film cameras.
New in this release is support for the following cameras:

Canon EOS 7D Mark II
Canon EOS 1200D (Digital Rebel T5)
Nikon D3200
Nikon D3300
Nikon D750
Blackmagic Design Production Camera 4K (at 4K resolution)
The Nikon D3200 and D3300 are the first entry-level Nikon DSLRs supported by Dragonframe. Their affordability and performance with the software open up the possibility of creating professional-looking stop motion animation to a wider audience.
The Blackmagic Design Production Camera 4K is a digital film camera that captures beautiful images at 4K resolution. With the new support in Dragonframe 3.6, it is a great choice for combining 4K live action with stop motion animation.
Dragonframe is the premier frame-grabbing software for stop motion animation and time-lapse photography. Using the live view of supported DSLRs, it provides video assist tools for the animator, and is the central hub for capturing and organizing high-resolution frames from the camera. Dragonframe is an excellent frame-grabber, with tools such as step-to-live, onionskinning, auto-toggling, and drawing (virtual grease pencil). Dragonframe has innovated in the world of stop motion software by pushing the functionality beyond frame grabbing to provide a full assortment of production tools.
Dragonframe is a complete capture and animation solution that provides five different workspaces, allowing fast and convenient planning, experimentation, analysis, manipulation, and sequence creation:

Animation tools for video assist, frame-grabbing, and editing
Cinematography tools for the Director of Photography
Full lighting automation with the DDMX-S2
Integrated Lip-Sync tools
Multi-axis move editor to quickly program complex camera moves
Whether they are independent filmmakers working on a project in a garage, a small crew working on a commercial, or a major studio making a feature film, users will find that Dragonframe has the tools they need to create amazing stop motion animation.
SYSTEM REQUIREMENTS

Mac OS X Version 10.6.8+ or Windows XP/Vista/7/8/8.1
OpenGL 2.1 Capable Graphics Card
1.33 GHz CPU
2 GB RAM
Supported Canon or Nikon DSLR, Video Camera, or Webcam
PRICING AND AVAILABILITY
The update is free to Dragonframe 3 license holders. Dragonframe 3.6 is priced at $295.00 (USD) for a single-user license, or $235 (USD) per license in quantities of five or more. A fully operational trial version is downloadable and valid for 30 days. Educational pricing is available.
ABOUT DZED SYSTEMS LLC
Located in Ojai, California, DZED Systems LLC is a privately held company founded in 2007 by award-winning director Jamie Caliri and professional software engineer Dyami Caliri. Committed to providing truly professional-grade software, DZED Systems was founded for the purpose of developing unique software and hardware solutions for stop motion film production.
Dragonframe® is a registered trademark of DZED Systems LLC. For more information about Dragonframe stop motion animation software, visit http://www.dragonframe.com.