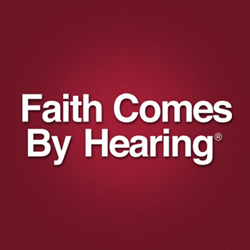 We are poised and ready to ensure the Scriptures are accessible and freely available through every means possible.
Albuquerque, N.M. (PRWEB) November 24, 2014
Faith Comes By Hearing® (FCBH) offers Scripture recordings in over 850 languages, with the goal of providing free access to these recordings through as many methods as possible. They released the Bible.is® app in 2010, the Deaf Bible® app in 2012 and have the largest Audio Bible store in iTunes, where over 51 million podcasts have been streamed or downloaded. Over a year ago, FCBH expanded into Internet radio, and has seen over 60 million listeners through iTunes Radio, Spotify, Rhapsody and other outlets that provide 24/7 access to their Audio Bibles. More recently, the ministry released the first-ever Bible app for Samsung Smart TVs. Now joining this expanding list of free digital distribution is the ministry's Bible.is app specifically made for Amazon Fire TV.
The new app provides access to the Bible.is Radio Network™, a collection of digital quality Audio Bible channels available in over 750 languages. As is the case with all FCBH digital expressions, the organization's app for Amazon Fire TV is powered by the Digital Bible Platform, which houses an expansive collection of digital Bible content that is also made freely available to developers and ministry partners through an open API (application programming interface).
As a result, more than 250 developers have been given free access to the Digital Bible Platform and the bountiful Bible content available there. Examples include Kolo Africa and the online Bible game Verses, with more than 40 translator and national Bible Society partner apps currently active as well. In addition, hundreds of radio partners around the world are enjoying the opportunity to broadcast rich, quality Audio Bible recordings over their airways as they reach their listening audience with the Gospel in their own languages.
"This is just one more place for people to find the Bible in their own language," says Troy Carl, FCBH vice president and architect of the Digital Bible Platform. "We are poised and ready to ensure the Scriptures are accessible and freely available through every means possible. We eagerly await and are working on the newest technologies because we'll have God's Word there, too."
Established in 1972, Faith Comes By Hearing currently provides Scripture recordings in 853 languages spoken or signed by over 5.7 billion people globally. Through the Digital Bible Platform, FCBH offers free access to this digital collection of Scripture via podcasts, Internet radio, satellite TV and the Bible.is family of apps.